.....is Luke Kuechly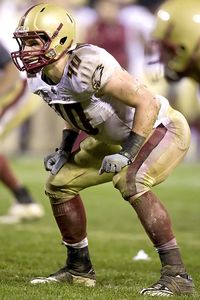 To me it is not even close, and if he was able to come out for the draft this year he would be the 1st linebacker taken. He is just as elite as they come, can easily shed blockers, has great balance and arm strength. Is is very conditioned, can run all over the field. Arguably can play all three linebacker spots and is a definition of a tackling machine rarely missing a tackle. He has everything you want in a top flight NFL linebacker prospect.
Might be one of the best linebacker prospects I can remember. He is better potentially coming out of college than the likes of AJ Hawk, Brain Cushing, Brian Urlacher, Jerod Mayo, James Laurinaitis, Rolando McClain, Paul Posluszny, Ernie Sims etc...
Looking at the best in college regardless of their position at linebacker here is how I would rank them. The top three at all super stars potentially, but Kuechly is a step above the rest I would say at this point. Hopefully he can stay healthy, keep up his improvement and productive and become a very high pick in next years draft.
Best overall linebacker prospect regardless of class or position. (*) indicates they are draft eligible this season
1) Luke Kuechly Boston College OLB SOPH
2) Vontaze Burfict Arizona State ILB SOPH
3) Manti Te'o Notre Dame ILB SOPH
4) Aldon Smith Missouri ¾ OLB SOPH RS*
5) Kelvin Sheppard LSU OLB SR*
6) Bruce Carter UNC OLB SR*
7) Dont'a Hightower Alabama ¾ OLB JR*
8 ) Greg Jones ILB Michigan State SR*
9) Michael Mauti Penn State OLB SOPH
10) Josh Bynes ILB Auburn SR*
11) Mason Foster Washington OLB SR*
12) Brian Rolle Ohio State ILB SR*
13) Von Miller Texas A&M OLB SR*
14) Nate Irving NC State ILB SR*
15) Mario Harvey Marshall OLB SR*
16) Lavonte David Nebraska OLB JR*
17) Akeem Ayers UCLA OLB JR*
18 ) Sean Spence Miami FL OLB JR*
19) Travis Lewis Oklahoma OLB JR*
20) Walter Stewart Cincinnati OLB SOPH RS*