alright don't be too harsh cause this is my first mock in ages
1.
Miami Dolphins
-
Jake Long OT Michigan
- Long is the pick here because the Dolphins are in a really bad state. The team needs to be rebuilt and the best way to start rebuilding is in the trenches. Long is an incredibly strong player who has anchored the rushing attack for Mike Hart. The Dolphins have a back with incredible potential in Ronnie Brown and Long would be a way to give Brown some support.
2.
Buffalo Bills
-
Glenn Dorsey DT Louisiana State
- Let's face it, the Bills defense is abysmal. They rank second to last in total defense. The best way to anchor a defense is with a solid pass rush and run stoppers. Dorsey is being heralded as one of the best prospects of all time. He is an obvious pick here.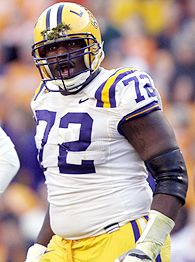 3.
St. Louis Rams
-
Calais Campbell DE Miami
- Yes I am aware, my first three picks are identical to Scott's, but this pick is very logical. Campbell has been compared to dazzling prospects such as Julius Peppers and Mario Williams. Campbell is somewhat of a raw talent, but his potential is too much to ignore. The Rams rank near the bottom in run defense and Campbell could help to improve that stat.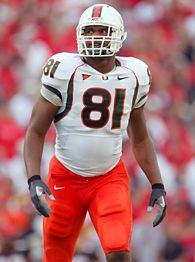 4.
New Orleans Saints
-
Kenny Phillips S Miami
- Well, another pick that Scott has as well, but there aren't many other options here. With Long and Dorsey off the board, no other trench men are worth taking at number 4. Linebacker and cornerback are other options I considered here, but neither of those had any players worthy of being picked forth.
5.
Atlanta Falcons
-
Darren McFadden RB Arkansas
- This is probably a very controversial pick but McFadden is possibly the best prospect in the draft. The Falcons have other needs, specifically quarterback but Warrick Dunn is aging and I don't see Norwood carrying the load. McFadden may not be the most logical pick, but he is the best player available. This spot may be grounds for trading.
6.
Dallas Cowboys via Cleveland
-
DeSean Jackson WR California
- The Cowboys probably would have really liked McFadden to have fallen to them, but Barber is getting the job done well enough. Tony Romo is establishing himself as an elite player. He has a great weapon in T.O., so why not give him another in Jackson. Jackson is a very versatile player who will also help out the return game.
7.
New York Jets
-
Chris Long DE Virginia
- This seems to be a highly liked pick by Jets fans. Some see Long as a better player than Campbell at the time, but because of Campbell's potential, Long slides to the Jets. Long has a motor that never stops and would be a great addition the Jets D.
8.
Minnesota Vikings
-
Brian Brohm QB Louisville
- I also considered Woodson as the pick here, but Brohm seems to be slightly leading him as the choice right now. Tavaris Jackson has not been playing well at all. It seems like the main concern holding the Vikings back is their quarterback play. Brohm is a leader who could step in and make an impact from day one.
9.
Kansas City Chiefs
-
Malcolm Jenkins CB Ohio State
- I like Jenkins as the pick here because the Chiefs corners (Ty Law and Patrick Surtain) are becoming ancient and need to be replaced. Jenkins is a great physical corner and would be a great replacement for either of the corners.
10.
Cincinnati Bengals
-
Keith Rivers LB Southern California
- The Bengals defense is horrendous, the offense is great, but the defense is holding them back from ever being a good team. The linebacker core is the main concern for me. Rivers is consensus number one linebacker in the draft.
11.
Oakland Raiders
-
Sam Baker OT Southern California
- The Raiders appear to be on the right track, they have a young quarterback with two decent receivers, a decent running back, a tight end with good potential, and some young players with a lot of potential on defense. The offensive line is probably the weakest spot right now, Robert Gallery did not pan out at all, so Baker is the pick.
12.
Philadelphia Eagles
-
Dan Connor LB Penn State
- The Eagles linebackers don't seem to be anything spectacular and Connor is yet another in the line of great Penn State linebackers. It seems possible that Connor could play inside or outside. Connor is just an all around solid player who seems to always be there for the tackle.
13.
Detroit Lions
-
Justin King CB Penn State
- Yet another teammate following another. It's about time the Lions quit picking "playmakers" and focus on defense. Cornerback seems to be the most severe concern for the Lions. There are several options for the Lions at cornerback but King seems to be the most consistent and solid.
14.
New England Patriots via San Francisco
-
Mike Jenkins CB South Florida
- Do the Patriots even have any needs? Well cornerback is fairly weak for them and Jenkins seems to be flying up draft boards. I also considered linebacker and defensive end, but those positions don't have as good of prospects left.
15.
Chicago Bears
- [i]Andre Woodson QB Kentucky[i]- I'm not sure if he will even be available here, but if he is, the Bears need to draft him. I know it might be hard to get rid of Super Bowl MVP Rex Grossman, but the Bears have given him too many chances and too much time. It's time for a change.
16.
Carolina Panthers
-
Matt Ryan QB Boston College
- I'm not too sure here, I also considered LB, S, and WR, but I felt QB was the greatest need. It doesn't seem like David Carr will ever develop into a great quarterback. There aren't good enough prospects available at LB and S, and Dwayne Jarrett can be given some time at WR. Matt Ryan continues to rise up draft boards and his name is being heard in the heisman talks, so he could be a great pick here.
17. Denver Broncos[/b]
-
Gosder Cherilus OT Boston College
- Teammates back to back once again. I'm not sure he will fall this far though. The Broncos line is aging, specifically Matt Lepsis and Cherilus would be a great pickup here to ensure that Denver's running game continues to be the power it has been over the last few years.
18.
Arizona Cardinals
-
Jonathan Hefney S Tennessee
- The Cardinals offense is in the right direction, so now it's time to focus on the defense. The pass defense would be strongly boosted if the Cardinals had another safety to pair with Adrian Wilson, so Hefney is the pick here.
19.
Tampa Bay Buccaneers
-
Sedrick Ellis DT Southern California
- Will Ellis even fall this far? He appears to be the clear cut 2nd best DT after Dorsey. The Buccaneers have felt the gap Warren Sapp ever since he left, so now it is time for Ellis to step in and fill that gap.
20.
Houston Texans
-
Jonathan Stewart RB Oregon
- As much as it pains me to say it, Ahman Green and Ron Dayne don't cut it for the Texans. Stewart would be a great value pick for them right here.
21.
Washington Redskins
-
Ryan Clady OT Boise State
- The Redskins defense is very very good but the offense is subpar. The main problem, in my opinion is the running game and more specifically the offensive line. Clinton Portis has shown he is a great running back, but he needs some help.
22.
Seattle Seahawks
-
Early Doucet WR Louisiana State
- The Seahawks haven't been getting very good production from their receivers so far. Doucet is a receiver with good speed and size and could easily become a key target for Matt Hasselbeck.
23.
San Diego Chargers
-
Frank Okam DT Texas
- This is a hard pick right here. The Chargers offense is one of the best in the league on paper. The defense is also very good. I really looked into a safety, but no one is worthy of being taken here. Okam is the pick because Jamal Williams is 31 years old, so Okam could step in whenever Williams needs a break.
24.
New York Giants
-
DeJuan Tribble CB Boston College
- Tribble is the pick here because R.W. McQuarters is by no means a spectacular corner. Tribble is very underrated in my opinion and will probably move up draft boards by the time April comes.
25.
Baltimore Ravens
-
Quentin Groves DE/LB Auburn
- The Ravens could use another end or linebacker to solidify their defense even further. Groves is a versatile and disruptive player. Cornerback could also pick considered because of the aging of the Ravens players.
26.
Tennessee Titans
-
Adarius Bowman WR Oklahoma State
- The Titans do not have great receivers by any means and they really need to put weapons around superstar Vince Young. Bowman is a big physical receiver who would be a good fit for the Titans.
27.
Green Bay Packers
-
Reggie Smith CB Oklahoma
- Cornerback is an extremely talented and deep position this year so I anticipate many corners being taken in the first round. Charles Woodson is great, but he has few years left down the road, let's just hope Smith doesn't turn out like Ahmad Carroll.
28.
Jacksonville Jaguars
-
John David Booty QB Southern California
- This pick is probably unlikely but the Jaguars need a quarterback, Garrard doesn't seem to be the answer. With Ryan, Brohm, and Woodson off the board a 1st round quarterback may be unlikely but it is possible. Booty has been injured and had a terrible game against Stanford, but he has proven himself in the past to be a great player.
29.
Pittsburgh Steelers
-
Ali Highsmith LB Louisiana State
- The Steelers have one of the best if not the best defense in the league, but James Harrison seems to be a weak link in a very strong Pittsburgh linebacker group. Highsmith is a great player on a great LSU defense and could be a sleeper pick.
30.
Dallas Cowboys
-
Barry Richardson OT Clemson
- Barry Richardson has anchored the running game for James Davis and CJ Spiller at Clemson, now it is time for him to anchor Dallas' attack.
31.
San Francisco 49ers via Indianapolis
-
Tommy Blake LB/DE TCU
- The 49ers really need another DE to help their pass rush. Blake may be a risky pick because he is somewhat unproven this year after temporarily leaving the team, but he is an outstanding prospect with big time potential.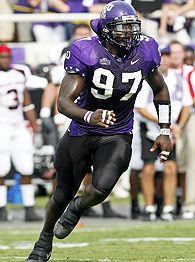 32.
New England Patriots forfeit pick
eh sorry my mock is pretty bad but I'm going off a pretty small amount of knowledge so I tried my best.. hope you enjoyed it.