This is my first ever mock draft, so be gentle. Criticism is very much appreciated. :)
Trades:
#1 overall pick from Miami to Dallas for the #22 pick and the #28 pick overall and Marion Barber.
#5 overall pick from Kansas City to Cincinnati for # 9 pick overall and a fourth round pick.
#7 overall pick from New England to Detroit for the #15 overall and a third round pick in the 2009 draft.
#15 overall pick from New England to Atlanta for two second round picks and a fourth round pick in the 2009 draft.
#18 overall pick from Houston to San Francisco for the #29 pick overall a fifth round pick and a third pick in the 2009 draft
#34 overall pick from St Louis to New Orleans for the #41 overall and a sixth round pick.
1. Dallas (Through Miami) - Darren McFadden. RB
Jerry Jones has fallen in love with D-Mac who is arguablly the best overall player in the draft, and will trade away two first round picks and his pro bowl running back to get him.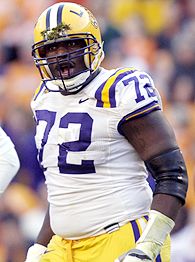 2. St Louis - Glenn Dorsey. DT
The Rams have probably the hardest decision to make in the draft. Do they go after Chris Long, Glenn Dorsey, Sedrick Ellis, or Jake Long? Well, they can't really go wrong here as every player fills a big need. So, I think they'll go after the man who has been the consesus number one defensive player for the entire college season last year.
3. Atlanta - Jake Long. OL
Matt Ryan is tempting here, but I just don't see him being worth a top 3 pick. So Atlanta will shore up there offensive line, with the best tackle in the draft. Whenever the Falcons do find their franchise quarterback he'll be well protected.
4. Oakland - Chris Long. DE
Al Davis doesn't get the flashy Darren McFadden here, but his silver medal ain't too bad. Long is a great fit for Oakland's defense and will become an instant star going to his father's old team.
5. Cincinnati (Through Kansas City) - Sedrick Ellis. DT
Cincinnati trades up to secure a great defensive tackle. Sedrick Ellis saw his stock sky rocket after a monstrous Senior Bowl week.
6. New York Jets - Vernon Gholston. DE/LB
Gholston will be a great peice to add to a young defense, and could develop into a monster pass rushing 3-4 olb.
7. Detroit (Through New England) - Leodis McKelvin. CB
Detroit trades up and grabs the number one corner in the draft. After the combine McKelvin will likely become a top ten pick and Detroit needs some desperate help in their secondary.
8. Baltimore - Mike Jenkins. CB
I know. I know. With Matt Ryan still on the board how are the Ravens going to pass him up? Well, this pick really depends on who the new head coach will be, but I think the number one priority will be to grab a guy to replace the often injured Samari Rolle.
9. Kansas City (Through Cincinnati) - Ryan Clady. OT
Kansas City trades down, grabes a few extra late round picks and still land the second best offensive lineman in the draft. Not a bad move.
10. New Orleans - Dominique Rodgers-Cromartie. CB
New Orleans pass defense was absolutely terrible. Jason David proved to be a huge bust in New Orleans' system, and Mike MacKenzie will only be getting older. Cromartie might be a reach here, but he'll have a nice combine and probably become a top 15 pick.
11. Buffalo - Malcom Kelly. WR
The Bills need a number two wide reciever to take defensive attention away from Lee Evans. With Evans, Lynch, and Kelly Edwards will have a nice set of weapons and the Bills should have a great offense.
12. Denver - Jeff Otah. OT
The Broncos need help stopping the run, but the value isn't there at the 12th spot. They may try trading up for Ellis, but if they get stuck with the 12th pick I think they'll upgrade their offensive line with Jeff Otah to protect the young Jay Cutler.
13. Carolina - Kenny Phillips. S
The Panthers could draft a young tackle, with both their left and right tackles possibly leaving through free agency, but they can't pass up Kenny Phillips with the 13th pick.
14. Chicago - Chris Williams. OT
Matt Ryan is a big temptation here, but the Bears have had terrible luck with quarterbacks, so they'll just upgrade their pass protaction here, and maybe trade for a veteran quarterback later.
15. Atlanta (Through New England) - Matt Ryan. QB
Atlanta trades back into the first round to nab the falling Ryan, and New England makes sure to add a few more picks for themselves later in the draft.
16. Arizona - Jonthan Stewart. RB
The Cards get a great franchise back here to replace the aging Edgerrin James. Stewart has the tools to become the back in the draft.
17. Minnesota - Reggie Smith. DB
The Vikes could take a reciever here, but I doubt they do. They're pass defense could use an upgrade and they get a big one with Reggie Smith who could play either Safety or Corner.
18. San Francisco (Through Houston) - Desean Jackson. WR
The Niners trade up to grab a big weapon for the offense. Mike Martz will have a lot of fun finding ways to get Jackson the ball, and will help turn the Niner offense turn around.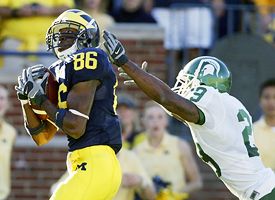 19. Philadelphia - Mario Manningham. WR
The Eagles need a playmaker at wide reciever. Whether McNabb or Kolb is the QB next year, they need someone to throw to. Manningham has good, hands, speed, and size, and should develop into the number one reciever.
20. Tampa Bay - Brian Brohm. QB
Jeff Garcia can't start forever. Brohm will definately sit behind Garcia for at least a year, but Tampa can't let Brohm fall any further.
21. Washington - Kentwan Balmer. DT
The Redskins need more pass rush. Andre Carter is pretty good off the edge, but they need a big man who can bring pressure up the middle and Balmer is definately the guy.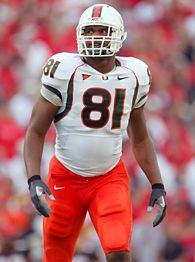 22. Miami (Through Dallas)- Calais Campbell. DE
Miami uses their first first-round pick to upgrade their defensive line, and pick up a guy with ridiculous upside.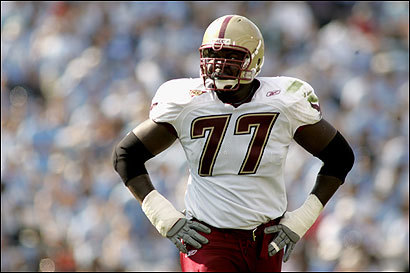 23. Pittsburgh - Gosder Cherilus. OT
With Alan Faneca and Max Starks most likely leaving in the off season, the steelers will have to adress an offensive line that simply let too many people get their hands on the quarterback.
24. Tennessee - Limas Sweed. WR
Sweed is a bit of a reach here, but the Titans need a reciever who Vince Young can get the ball to, and they already know he can get it to Sweed, so why not grab him a little early.
25. Seattle - Fred Davis. TE
Seattle could easily go runningback here, but the running back class is quite deep and they can find a guy for their franchise in the second round, so they upgrade their passing game with a great recieving tight end.
26. Jacksonville - Derrick Harvey. DE
Jacksonville gets great value for one of the best ends in the draft, and a great guy to next to Marcus Stroud and John Henderson.
27. San Diego - Pat Sims. DT
What do you give the team with virtually no holes? How about a little more depth on the defensive line? You can't go wrong with a big run stopper like Sims.
28. Miami (Through Dallas) - Sam Baker. OT
Miami grabs another lineman, this time on the other side of the ball, to help in their rebuilding process.
29. Houston (Through San Francisco) - Aqib Talib. CB
Houston trades down and still grabs a great corner to play opposite Dunta Robinson, and help out in the pass defense.
30. Green Bay - Antoine Cason. CB
Not a lot of need here for Green Bay so they add a little depth to their cornerbacks as both Al Harris and Charles Woodson are getting older.
31. New England - Forfeited.
32. New York Giants - Patrick Lee. CB
A bit of a reach here, but the Giants definately need a better secondary to let some of the pressure off of the front four.
33. Miami - Dan Connor. LB
34. New Orleans (Through St Louis) - Keith Rivers. LB
35. Oakland - Early Doucet. WR
36. Kansas City - Phiilip Merling. DE
37. New York Jets - Carl Nicks. OT
38. New England (Through Atlanta) - Tracy Porter. CB
39. Baltimore - DeJuan Morgan. S
40. San Francisco - Quentin Groves. DE/LB
41. St Louis (Through New Orleans) - Branden Albert. OG
42. Buffalo - Ali Highsmith. LB
43. Denver - Rashard Mendenhall. RB
44. Carolina - Andre Woodson. QB
45. Chicago - Chad Henne. QB
46. Detroit - Anthony Collins. T
47. Cincinnati - Curtis Lofton. LB
48. Minnesota - Devin Thomas. WR
49. New England (From Atlanta) - Felix Jones. RB
50. Philadelphia - Oniel Cousins. OT
51. Arizona - Charles Godfrey. Cb
52. Washington - James Hardy. WR
53. Tampa Bay - Donnie Avery. WR
54. Pittsburgh - Brandon Flowers. CB
55. Tennessee - Lawrence Jackson. DE
56. Seattle - Chris Johnson. RB
57. Cleveland - Erin Henderson. LB
58. Miami - Andre Caldwell. WR
59. Jacksonville - Adarius Bowman. WR
60. Inianapolis - Justin King. CB
61. Green Bay - Phillip Wheeler. LB
62. Dallas - Chris Ellis. DE
63. New England - Jamar Adams. S
64. New York Giants - Xavier Adibi. LB
I might add another round or two later.