*1st overall pick and CB/S Jason Allen from Miami traded to Dallas for the 22nd, 28th, and 93rd picks, a 2nd round pick next year and LB Bobby Carpenter.
*4th overall pick is traded from Atlanta to Cincinnati for the 9th and 47th picks
*
7th overall pick is traded from New England to the New Orleans for the 10th and 79th overall picks.
*8th overall pick is traded from Baltimore to Denver for the 12th overall pick, a 3rd round pick, and a future 4th round pick.
*
16th overall pick is traded from Arizona to Philadelphia for the 19th overall pick and a future 3rd round pick
*34th overall pick is traded from St. Louis to Buffalo for the 42nd and their fourth round pick
2008 NFL Draft
First Round
1. Dallas Cowboys (from Miami Dolphins)-Darren McFadden RB Arkansas
2. St. Louis Rams-Chris Long DE Virginia
3. Oakland Raiders-Glenn Dorsey DT LSU
4. Cincinnati Bengals (from Atlanta Falcons)- Sedrick Ellis DT
5. Kansas City Chiefs- Jake Long OT Michigan
6. New York Jets- Vernon Gholston DE/OLB TOSU
7. New Orleans Saints (from New England Patriots from San Francisco 49ers) Mike Jenkins CB USF
8. Denver Broncos (from Baltimore Ravens) - Kenny Phillips SS Miami (FL)
9. Atlanta Falcons (from Cincinnati Bengals)- Matt Ryan QB Boston College
10. New England Patriots (from New Orleans)- Keith Rivers LB USC
11. Buffalo Bills- Malcolm Kelly WR Oklahoma
12. Baltimore Ravens (from Denver Broncos)- Aqib Talib CB Kansas
13. Carolina Panthers- Ryan Clady OT Boise State
14. Chicago Bears- Brian Brohm QB Louisville
15. Detroit Lions- Leodis McKelvin CB Troy
16. Philadelphia Eagles (from Arizona Cardinals)-James Hardy WR Indiana
17. Minnesota Vikings- Derrick Harvey DE Florida
18. Houston Texans- Jonathan Stewart RB Oregon
19. Arizona Cardinals (from Philadelphia Eagles)- Dominique Rodgers-Cromartie Tennessee State
20. Tampa Bay Buccaneers- Kentwan Balmer DT UNC
21. Washington Redskins- Calais Campbell DE Miami (FL)
22. Miami Dolphins (from Dallas Cowboys from Cleveland Browns)-Jeff Otah OT Pittsburg
23. Pittsburgh Steelers- Chris Williams OT Vanderbilt
24. Tennessee Titans- DeSean Jackson WR California
25. Seattle Seahawks- Rashard Mendenhall RB Illinois
26. Jacksonville Jaguars- Phillip Merling DE Clemson
27. San Diego Chargers- Gosder Cherilus OT Boston College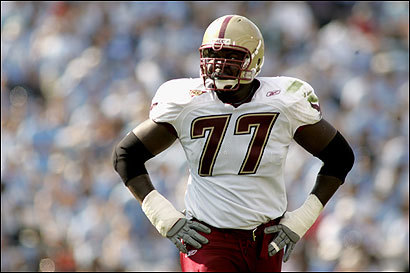 28. Miami Dolphins (from Dallas Cowboys)- Pat Sims DT Auburn
29. San Francisco 49ers (from Indianapolis Colts)- Limas Sweed WR Texas
30. Green Bay Packers- Dan Connor ILB/OLB Penn State
31. New England Patriots - Forfeited for getting raped in the Superbowl
32. New York Giants- Reggie Smith S/CB Oklahoma
2ND ROUND
33. Miami Dolphins- Thomas Decoud FS California
34. Buffalo Bills (from St. Louis Rams)- Fred Davis TE USC
35. Oakland Raiders- Felix Jones RB Arkansas
36. Kansas City Chiefs- Tracy Porter CB Indiana
37. New York Jets- Dre Moore DT Maryland
38. Atlanta Falcons- Sam Baker OT USC
39. Baltimore Ravens- Andre' Woodson QB Kentucky
40. San Francisco 49ers- Quentin Groves OLB/DE Auburn
41. New Orleans Saints- Curtis Lofton ILB Oklahoma
42. St. Louis Rams (from Buffalo Bills)- Branden Albert OG Virginia
43. Denver Broncos- Marcus Harrison DT Arkansas
44. Carolina Panthers- DaJuan Morgan S NC State
45. Chicago Bears- Carl Nicks OT Nebraska
46. Detroit Lions- John Carlson TE Notre Dame
47. Cincinnati Bengals- Erin Henderson OLB Maryland
48. Minnesota Vikings- Mario Manningham WR Michigan
49. Atlanta Falcons (from Houston Texans)- Phillip Wheeler ILB Georgia Tech
50. Philadelphia Eagles- Patrick Lee CB Auburn
51. Arizona Cardinals- Jamaal Charles RB Texas
52. Washington Redskins- Devin Thomas WR Michigan St.
53. Tampa Bay Buccaneers- Early Doucet WR LSU
54. Pittsburgh Steelers- Antoine Cason CB Arizona
55. Tennessee Titans- Lawrence Jackson DE USC
56. Seattle Seahawks- Martellus Bennett TE Texas A&M
57. Cleveland Browns- Jason Jones DE Eastern Michigan
58. Miami Dolphins (from San Diego Chargers)- Adarius Bowman WR Oklahoma St.
59. Jacksonville Jaguars- Marcus Griffin S Texas
60. Indianapolis Colts- Chilo Rachal OG USC
61. Green Bay Packers- Justin King CB Penn State
62. Dallas Cowboys- Heath Benedict OT Newberry
63. New England Patriots- Charles Godfrey CB Iowa
64. New York Giants- Brandon Flowers CB Virginia Tech