01.
Reportedly, Bill Parcells is looking to trade this pick. But the question is, will any team be looking to trade as much as he might demand for the number one overall pick? Personally, I think if he trades this pick, it will either be a day or two before the draft, or even on draft day. But if he doesnít trade, than I think that Chris Long will have to be the selection. There is a high possibility that the Dolphins will be switching to the 3-4 defense, which Long is the perfect fit for. But even if the Dolphins donít switch up their defense, Long is still a great fit for the team. Arguments could also be made for Glenn Dorsey or Sedrick Ellis, but Iím not sure that Parcells is willing to take a player that might not even work out for him.
02.
For the past two seasons, Orlando Pace has been injured. Overall, at the end of the season, the Rams were ranked 25th in rushing, 19th in passing, and 24th in total offense. A running back like Steven Jackson is something you need to get your offense going, and without anyone to open up the holes for him, you canít get anywhere. On the passing side, Marc Bulger was sacked 37 times this season. In total though, the Ramsí offensive line gave up 48 sacks. Jake Long is an extremely athletic and strong offensive tackle, and not to mention he was only beaten for a sack once in his senior season. Long will give the Ramsí offensive unit the blocking and support they need to open back up their offense once again.
03.
I know that many Falcons fans will hate this pick, but like it or not, the franchise is in desperate need of a quarterback. After releasing Leftwich earlier this week, the Falcons somewhat publically showed that they will take a quarterback in the draft, and because Joey Harrington or Chris Redman sure wonít get the job done, they need to get their signal caller in the first round. Matt Ryan may have publically said that he didnít want to play for Atlanta, but like it or not, the NFL has become a business.
04.
After releasing Warren Sapp earlier this season, it became even clearer that a defensive tackle to replace him was Oaklandís biggest need. Also, Terdell Sands really hasnít played up to par after getting a new contract. After Ellisí outstanding Senior Bowl performance, he jumped up to the number one defensive tackle on my positional rankings, as well as many othersí. An argument could also be made for Darren McFadden with this pick, but after re-signing Justin Fargas, the position became a bit more stable. Oakland will most likely be looking at running backs in either round two or three.
05.
Kansas Cityís biggest need may not be defensive tackle, but with no offensive tackle really worth the pick, they go with Dorsey. Clady could be the pick here, but I think itís too much of a reach for him. Dorsey is a great prospect, and I am actually surprised that he dropped to this pick. The only reasons why teams may be skeptical about him here is because of his injury concern. But I think if he does well at the Combine, it could boost his stock back into being the elite prospect he was a few months ago.
06.
Running back may not be the Jetsí biggest need, nor do I think itís really a need at all for the team. I think that they are deeply in need of some help along both sides of the line. But with Darren McFadden being possibly the best prospect in the draft, and dropping this far, he is too hard to pass up. Thomas Jones is a pretty solid back, but with him and McFadden in the backfield together, they could give the Jets that offensive spark that they need.
07.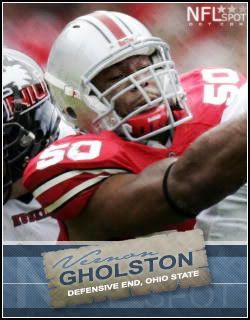 The Patriots are a vey lucky team with having this pick. Especially sine their original selection got taken away because of the SpyGate incident. They take Gholston here, hoping that he can revitalize an aging linebacker corp. Gholston can step in to fill an outside linebacker position for the team, and even play defensive end if needed to. All of the Patriots linebackers are over 30 years old, which means that they need to start looking for some depth at the position soon.
08.
The Ravens are terribly in need of some depth at the corner position. Besides Chris McAllister, who has been struggling with injuries lately, and Samari Rolle, the team really has no one else at this position. After Malcolm Jenkins declaring to stay in school, McKelvin has moved up on my board to the top cornerback in the draft. His coverage skills will help out a struggling secondary for the Ravens.
09.
Once again, Cincinnatiís defense was terrible this year. And with having a terrible defense, that puts tons of pressure on the offense to make up for the mistakes. And we all saw how the Bengals offense did. On the defensive side of the ball, four of Cincinnatiís linebackers are set to become free agents. The Bengals need to quickly jump on that and add depth to the position. They will start that by taking in my opinion, the best outside linebacker in the draft this year.
10.
The Saints defense is what really kept the team out of the playoffs this year. The weak point of the defense was once again the secondary. Cornerback has been a need for quite some time now, and even more after the Jason David experiment didnít work out as planned. The Saints need someone to play opposite Mike McKenzie, and with the skills that Jenkins has, he could very well be the guy theyíre looking for.
11.
The Billsí only weapon at the receiver position is Lee Evans. They need someone opposite to him that can compliment him well. If they want Trent Edwards to be their guy at quarterback, they are going to need to find him some more playmakers. Also, considering that none of their receivers are over six feet, the Bills are going to need that receiver to be tall. Kelly is 6í4Ē and 219 lbs. He has great size and speed, and will be the playmaker the Bills are looking for.
12.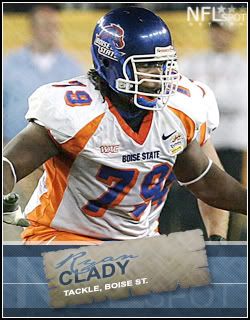 Depth is in need for the offensive tackle position, especially after the retirement of Matt Lepsis this year. The other linemen really havenít been playing up to par, and if they want Jay Cutler to be their guy, they need to give him a sturdy and trustworthy line to work with. Clady is the number two offensive tackle on my board, and is practically a steal at pick twelve.
13.
Normally, Iíd say offensive tackle for the Panthers. But with them re-signing Wharton, it isnít as big of a need as it was. Safety now becomes probably the top need for the Panthers. Chris Harris has turned out great, but I really canít see Deke Cooper ever playing much in the future. The Panthers add a great safety in Phillips, hoping to give the safety position some major depth for the next few years.
14.
Chicagoís future at quarterback is very uncertain to say the least; god knows itís not Grossman, Griese, or even Orton. Chicago will look to take a quarterback in this draft, be it rounds two or three. But having a franchise quarterback means that youíre going to need someone to protect him. Otah is a great tackle prospect, with amazing size and strength. He will also be opening up holes for Cedric Benson, who could very well emerge to be a great running back.
15.
After trading away Dreí Bly last season, Detroitís passing defense finished ranked 32nd in the league. Fernando Bryant is really the only cornerback in my eyes that has the ability to start for the Lions. Antoine Cason may be a reach here, but he is a perfect fit for the zone defense that the Lions run. The Lions look for Cason to help significantly improve their pass defense for years to come.
16.
Edgerrin James is nearing the 30 year old period, where his career will most likely decline. He has been a great running back in the past, but his golden years are over. Plus, he has stated that he doesnít even want to play for Arizona any more. The Cardinals take a very athletic running back in Mendenhall, who is the number two running back on my board. Mendenhall can give the Cardinals that spark of life that theyíre looking for in their offense.
17.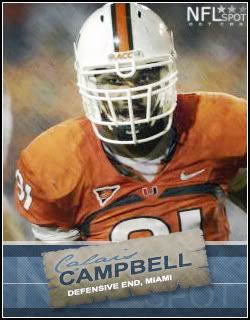 With Udezeís unfortunate illness, there is almost no choice but to take a defensive end here. The question is, which one will it be? The choice is between Campbell, Harvey, or Merling. I think that Campbell is the right pick here. Itís too hard to pass up a 6í8Ē defensive end, from a school that puts out great defensive prospects. The Vikings add some depth to a position that greatly needs it.
18.
Ahman Green is getting up there in age, and he needs a replacement. And we all know it wonít be Ron Dayne. Jonathan Stewart is a great running back, and the best player available here. The Texans could also use a safety or cornerback, but I just donít see any worth the pick. Stewart can add some versatility to an already struggling offense in Houston.
19.
Philadelphiaís defensive line really isnít playing up to par. They also need some depth at the position. Arguments could also be made for a player such as DeSean Jackson, but I think that they will be able to grab a good receiver in the second round. Merling is the best overall defensive end in the draft, and can really compliment someone such as Trent Cole.
20.
Brohm or Jackson? Brohm or Jackson? Brohm or Jackson? Thatís what kept racing through my mind as I was deciding for this pick. Jeff Garcia has a good year or two left in him, and Tampa may be able to snag a franchise quarterback in next yearsí draft. As for receiver, Joey Galloway has been pretty productive, but heís also getting up there in age. The Buccaneers take Jackson, hoping he can be the replacement for Galloway, and also that he can add a spark to their return game.
21.
Andre Carter has sure turned out to be a good signing. But on the other hand, Phillip Daniels is 35 years old, and he will need a replacement. There really is no depth at the defensive end position in Washington, and Harvey is a great pass rusher, who could very well compliment Andre Carter.
22.
If Jerry Jones doesnít make that stupid trade thatís been rumored to happen and keeps this pick, than Felix Jones is the pick here. Jerry Jones wanted McFadden, but will just have to settle for his teammate. Julius Jones is set to be a free agent, and the Cowboys will most likely let him go. Marion Barber will step up to be the starter, but we still donít know if he can carry the full load. Felix Jones is a speedy back who will compliment Barber very well, as well as providing help for the return game.
23.
The Pittsburgh Steelers have three offensive linemen set to become free agents. And after giving up the second most number of sacks last year, itís time to look for some depth. Chris Williams could play tackle on either the right or left side, which could mean moving Willie Colon on the inside, where he may be a better fit. After Williamsí performance in the Senior Bowl, his stock rose, moving him to a first round prospect. The Steelers select Williams, hoping to protect Roethlisberger.
24.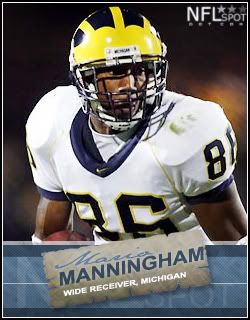 The Titans have used quite a bit of receiver combinations over the last two seasons. After letting Bennett go last year, they really havenít had a go-to-guy for quarterback Vince Young, who looks to have a breakout season this year. And if he wants to have a breakout year, he needs playmakers. Manningham can be the big target that the offense has been looking for.
25.
Running back may be the biggest need for Seattle, but there is no more first round caliber backs here. So they go with arguably their second biggest need, Tight End. Marcus Pollard is a free agent this year, but he obviously wasnít the guy they were looking for. Fred Davis is a great pass catcher, and a pretty good blocker as well.
26.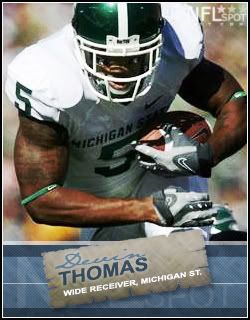 Another team that could go in any direction with their first round pick. Their biggest need is defensive end, and as always, no one worth the pick. They may be able to snag Lawrence Jackson or Chris Ellis in the second round though. Besides that, Iíd say that their biggest need is receiver. Ernest Wilford is a free agent, and Matt Jonesí days are numbered in Jacksonville. Devin Thomas is a great prospect who could help out the Jacksonville offense.
27.
The Chargers donít have too many weaknesses, but safety is one of them. McCree hasnít played up to par, and wonít be back. Clinton Hart sure doesnít seem to be a starter either. The Chargers need someone to pair up with Weddle in the secondary, so Reggie Smith is their guy. And if needed, Smith can also play corner as well.
28.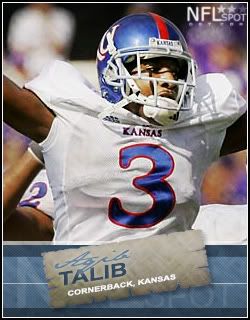 Dallas is heavily in need of corners to upgrade the position and add some depth. Jacque Reeves is a free agent, but he wasnít much of an impact on the team anyway. Talib is a great corner who will definitely help out against the pass, and even give the Cowboys some run support as well.
29.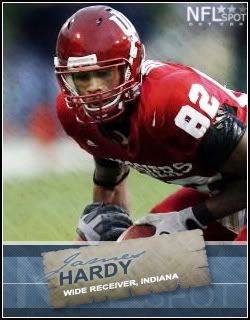 There really is no clear cut at who will be playing quarterback for the Niners in the future, but whoever it is, theyíre going to need some playmakers at receiver. The Darrell Jackson trade didnít really benefit the 49ers too much, and neither did the signing of Ashley Lelie. San Francisco needs a receiver who is tall, and who will go up and get the ball. Hardy is exactly the guy who theyíre looking for, and who will make Martz a very happy coordinator.
30.
The cornerback play hasnít necessarily been bad this season, itís just that both Al Harris and Charles Woodson are both over 30 years old. Cromartie really helped his draft stock after his amazing performance at the Senior Bowl. He could learn behind a group of very experienced corners, and eventually replace one of them. And if heís anything like his cousin, the Packers will be very pleased with this selection.
31.
The New England Patriots are forced to forfeit the 31st pick in the 2008 NFL Draft for illegally videotaping the Jetsí coaches on the sideline in week one. Due to them making the playoffs, they give up their first round selection rather than a different round.
32.
Kawika Mitchell is set to become a free agent, and Mathias Kiwanuka may be moving to the defensive end position. Dan Connor was an amazing linebacker in his college years, collecting many school records. Connor will step up to be the leader that the New York Giants are looking for in a linebacker.