Which player on your team (should be a relative unknown to the general public) do you think is poised to break out for next year?
For the 49ers, i'll go with WR
Josh Morgan
2008 stats- 20 catches, 319 yards, 3 TDs, 16 YPC
http://www.nfl.com/players/joshmorga...e?id=MOR166910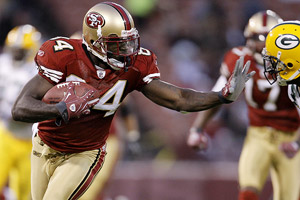 Morgan was a 6th round pick from 2008. He turned a lot of heads in camp and preseason. He impressed so much that he was expected to be a starting receiver from week one. Unfortunately, his progress was impeded by a staph infection that slowed him down for a few weeks in the beginning of the season, as well as Bryant Johnsons solid play. But Morgan slowly went up the depth chart again and his breakout performance was against the Giants, catching 5 passes for 68 yards and a TD. He continued to show more flashes of brilliance as the season progressed but was hampered by injuries as well, missing 4 games in the 2nd half of the season. His highlight of the season- catching a 46 yard hail mary TD with 3 defenders around him against the rams. He took a nice lick at the end of the play too but still held onto the ball. His play has sold me on his ability and i think he can be a legit receiver.
Barring injury, he is expected to be the starting Split End next year. He has a nice combination of size and speed (6-0 219, 4.4 40), good route running, and a nice knack for getting open deep. He seems to be the type that isnt great at anything but is good at everything. He'll likely be the 49ers #1 by default and i expect good things from him in his 2nd year in the pros.
Whos your teams breakout player for 2009?