1. Dominique Rodgers-Cromartie CB Tenn St.. This strays a little from our usually BPA strategy, but it certainly fills a need. McKelvin and Cromartie are neck in neck to me. Both have return ability and are good with the ball in their hands. But Cromartie has the size and length that are ideal in corners nowadays. I was a big fan of Fred Bennett last year who was pretty similar to Cromartie physically and he was great his first year in Houston. And if Cromartie is anything like his cousin, we've got ourselves a player. Obviously McKelvin would be another option, and I also think Ozzie will take a look at the Trevor Pryce clone in Phillip Merling.
2. Chris Johnson RB ECU. Yes, at first glimpse it seems very ridiculous. Right now, Johnson has firmly entrenched himself as a 2nd rounder, and he may get some consideration in the first, although I don't see more than 4 backs going then. It's a premium pick to invest in a backup, but the two headed rushing attack is becoming increasingly popular and effective. Johnson is a completely different runner compared to McGahee and would be a big play threat out of the backfield that we desperately needed at times last year. He could double as a slot receiver as well a la Reggie Bush. Musa isn't coming back and Daniels has been a bust thus far.
*I heavily considered defensive line, but there wasn't anyone really worth it there. Trevor Laws is my favorite prospect in the late 2nd early 1st range, but he doesn't fit our scheme. Pat Sims is a huge risk and isn't our type of passionate player. I had written in Red Bryant here before but I don't like the value there. He could easily be the pick, but the sudden idea of Chris Johnson just was too much to overcome.
3. Jonathan Goff ILB Vanderbilt. A seemingly born Raven, Goff possesses the toughness
and passion our FO loves. He's got great triangle numbers, which surprised me because I always thought he was a kind of big time run stuffer a la Ed Hartwell. Yes we just resigned Nick Greisen, but he's for sure not in future plans, and Ray needs a protégé.
4. Kirk Barton T/G OSU. I was tempted to go Lance Leggett here as I'm a huge fan of his, but I feel like that other receiving option is filled by the versatility of Chris Johnson. Barton is a player who will unfortunately for him drop far on draft day due to a significant lack of athleticism. After the 1st 3 rounds, OTs come off the board much slower, as well as OG's. Runs on quality OL are made early, leaving Barton available in the early 6th. A very poor man's Marshall Yanda. His versatility is needed up front.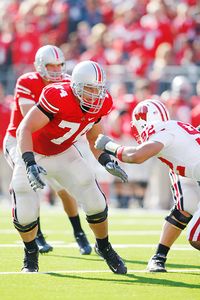 4(comp). Kendall Langford DE Hampton. I had Letroy Guion penciled in here, but I don't like how his game translates to a 3-4. He reminds me too much of Travis Johnson, who I've seen a lot of as a Houstonian. While Johnson is an ideal NT in the 43, he's very poor in a 34. Langford is a very large player who is not quick enough to play outside in a 43, but is strong enough to hold it down at the 5 technique. He's got the toughness and ability to make the jump in competition.
7. Derrick Lokey NT UT. I had to get one of my Texas players in there. Lokey topped the team in bench press at 515 pounds and anyone who watched Texas knows he's the difference maker on the line. In the 8 games he played his junior year, opponents averaged something like 2.6 yards per rush. He's limited physically but I feel he can learn a lot from Kelly Gregg, who's built similarly. He's a tough, hard worker, and is very unselfish.
*I have a hunch Bryan Mattison DE Iowa will be brought in as a FA.