Just finished a Three Round Mock Draft on another site, and wondered how you guys would feel with my choices?
If I can, I'll explain (if asked) who was selected before my/our pick, that way you'll have an idea of my options.
NOTE: this was started before Bradfords pro day.
Rd 1 - Suh and Okung are off the board, so the pic was an obvious one:
Gerald McCoy - DT - Oklahoma
Rd 2A - WR's Bryant/Thomas/Tate are gone, as are DE's Pierre Paul/Graham/Morgan, and CB's Haden/Wilson/McCourty, with Dom promissing "weopens" for Freeman, I went with the best available:
Damien Williams - WR - USC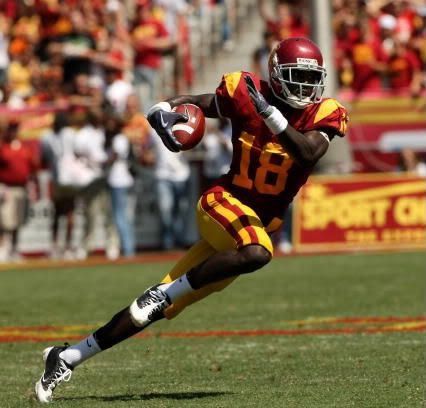 Rd 2B - Looking for a mixture between value and need this pick was an easy one:
Chris Cook - CB - Virginia
Chris Cook battled through a groin injury as a senior, but still had four interceptions and six passes broken up.
This next pick was the easiest and the hardest, I had three guy's in mind, Carlton Mitchell, Andre Roberts, and Dorin Dickerson, in the end:
Dorin Dickerson - TE/WR/FB - Pittsburgh
In Indy the 6-1/226 TE, ran a 4.4 Forty, Benched 225: 24 times and had a Vert of 43.
In his college career, Dickerson played wide receiver, fullback, tight end and even linebacker, his versatility will be a key indriedient to any offense, especially one with Kellen Winslow in it.
I'm pretty pleased, BUT ARE YOU!?!