"Brandon Tate could probably play for every team I've coached for the last 34 years. He is a great kid. You love the way he approaches it. There's a lot of guys who don't like to return kicks and punts. He is electrifying. He makes guys miss. You need guys like that that can change field position and change the complexion of the game." -- coach Butch Davis, on Tate's performance.
Allow me to introduce the beast known as #87 Brandon Tate, 6'1", 195 North Carolina University extroirdinaire.
http://tarheelblue.cstv.com/sports/m...brandon00.html
Scott Wright's Blog in September wrote:
• If someone had asked me a couple of months ago which North Carolina wide receiver was the best pro prospect the answer would have been Brooks Foster. In fact, it would have been a no-brainer. However, I guess that is why they play the games... Not to take anything away from Foster, who is still a good player and a solid prospect in his own right, but it's his teammate Brandon Tate that really has scouts around the league buzzing.
With a grand total of 30 career receptions to his name coming into the '08 season Tate was considered by most to be, at best, a marginal late round prospect who would have to carve out a niche as a return specialist to make it at the next level. Well, Tate is still an excellent return man, averaging 31.1 yards on kicks and 28.2 yards on punts this year, but he has also emerged as a legitimate receiving threat and playmaker on offense with 11 catches for 297 yards (27.0 avg.) and 3 touchdowns in the Tar Heels first three games. For good measure Tate has also carried the ball 7 times for 141 yards (20.1 avg.) and a score.
That's what you call a jack-of-all-trades!
At 6-1 and 195 lbs. Tate definitely has the size you look for and even though his timed speed (4.5) is relatively average he plays faster once the pads are on and is very elusive. As a result of his sudden outburst scouts are becoming increasingly enamored with Tate and he has begun to see his draft stock soar. In fact, some are already stamping third and fourth round grades on Tate and if he manages to keep up this pace who knows how high he could eventually climb. Might he be a poor-man's Devin Thomas?
Every year we see prospects seemingly come out of nowhere and Tate appears to be one of those guys. In recent years it seems as though the NFL has placed more of an emphasis on versatility and game changing return men, which bodes well for Tate because he earns very high marks in both categories.
First play.. kickoff return for long gain where he jukes, maintains full speed while doing a fricken pirouette and running down the field.
Second play.. Stretches his body out for the catch... Does it again at the 45 second mark on a deep play down the middle.
Check out how many deep passes he catches throughout.
1:40 mark... Tell me this is not vintage TO. Takes the pass on a short slant, breaks the tackle like TO, and runs down the sideline with no shoe. Even the body coordination, movement is very TO like.
2:29 mark... Check out those shifty jukes and then burst to the left down the sideline... Looks like Chris Johnson speed putting defenders in slow motion.
3 min mark... fights for the ball in the air. Grabs it over the face of the defender...
3:30 mark... A very TO like reverse play for TD.
Led the ACC in kick returns in 2007. Has the explosiveness of Felix Jones at the WR position. Just like Felix, his 40 time won't wow you, but his field speed definitely will.
In case you still don't believe...
13 sec mark... Straight line speed... Class over... any questions?
32 sec mark... How many times have we seen Stanback fall down on the first hit??? Tate makes me forget those bad memories.
52 sec mark... Sweet Holy Jesus.... No that's no fast forwarded. Punt returning at it's finest.
1:15 sec mark... A hand off... Now you're just f'n kidding me... No, I'm not. :D
1:38.. Se........par............a............tion........ ..............!
Rest of video... Enjoy... Should we just give it to him on every down? :)
Big news as Tate is lost for the season... Teammates and coaches express his importance.
Mel Kiper on Brandon Tate... Week 6 Breakout star. 1:10 mark.
Listen to some music while you check out some news, notes and the picture gallery. :p
Analysis from *************.
Positives: Long, lean build. Good quickness, size and hand strength to get off the line of scrimmage against press coverage. Emerging route-runner with the quick feet and balance to ultimately be quite good in this area. More quick than fast, though he has good acceleration. Elusive in the open field and has the vision to set up his blocks and break into the open field. Soft hands. Good body control and flexibility to contort his body for the poorly thrown pass. Can extend to make the diving grab. Good height and long arms and uses the combination well to high-point passes over smaller cornerbacks. Excellent returner with NFL ability for punt and kickoff returns.
Negatives: Torn ACL and MCL in October means he may not be able to answer questions about his straight-line speed until after the draft. Primarily a return specialist until flashing as a receiver as a senior. A bit raw as a route-runner. Relies on his athletic ability in this area, rather than precise footwork.
• NCAA career leader in combined kick returns yards (kickoffs & punts) with 3,523 yards
• ACC career leader in kickoff returns (109) and kickoff return yardage (2,688)
• One of only nine players in NCAA history to return a kickoff and a punt for a touchdown in the same game (Duke, 2006)
• Holds the UNC single-season and career records for most kick returns for touchdowns.
09/01/08 - North Carolina 35, McNeese State 27 -- Senior Brandon Tate had a record-setting night with 397 all-purpose yards, including touchdown runs of 82 yards on a punt return and a 57-yard pass reception, to lead the Tar Heels.
09/15/08 - GAME BALL GOES TO: Brandon Tate -- After piling up 397 all-purpose yards in the opener (rushing, receiving and kickoff and punt returns), Tate was back in form against Rutgers. He scored on a 69-yard pass play among his four catches (138 total yards receiving) and a 12-yard run, plus had 58 yards on two kickoff returns and one punt return of four yards.
09/19/08 - PLAYERS TO WATCH: WR Brandon Tate was mostly a return specialist in his previous season, but he is making a big contribution from the line of scrimmage in this campaign. He actually is Carolina's leading rusher with 125 yards on five carries and has eight catches for 231 yards.
09/24/08 - PLAYERS TO WATCH: WR Brandon Tate is one of the most electrifying players in the country. He not only can break off a big play in the passing game but also is a threat in the return game. He leads the ACC in receiving yards per game (99.0) and punt-return yardage (28.2 on five returns) and is second in kickoff-return yardage (31.1 average per return).
09/27/08 - North Carolina senior Brandon Tate has broken the NCAA record for combined kick return yardage. Tate came into the Tar Heels game Saturday against Miami 36 yards shy of the 3,455 yards Deltha O'Neal had for California from 1996-99. Tate broke the mark by the end of the first quarter after returning kickoffs 19 and 29 yards. Tate is closing in on several other NCAA return milestones. He came into Saturday's game 391 yards shy of the kickoff return record owned by Tulane's Jeff Liggon. The wide receiver also is closing in on becoming the 11th player in history with more than 1,000 career return yards on both kickoffs and punts. - AP Sports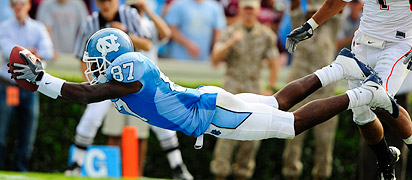 09/29/08 - WR Brandon Tate continues to contribute in many ways for North Carolina. He not only had three catches for 62 yards vs. Miami, including a 37-yarder on a third-and-10 situation in Carolina's second touchdown drive, he also completed a 12-yard pass in the Tar Heels' first scoring drive after giving the Heels good field position with a 29-yard kickoff return. His 67 yards on three kickoff returns gave him an NCAA-record 3,549 yards for his career in kickoff and punt returns.
10/03/08 - PLAYERS TO WATCH: WR Brandon Tate can win a game with his receiving (14 catches, three for touchdowns), running (nine carries, 142 yards, one touchdown), punt returns (28.2-yard average, 82-yarder for a touchdown) or kickoff returns (28.5-yard average, long of 56).
10/16/08 - QUOTE TO NOTE: "The good news is that he will be back, and he will recover from this. I shared with him that two of the best receivers that I ever had the opportunity to be around as a coach both had equally significantly damaging injuries." -- coach Butch Davis, on the injury to WR Brandon Tate, referring to his experiences with former Miami stars Michael Irvin and Reggie Wayne.
I want this guy so bad, my bones hurt.