Week 12:
Thursday, November 24, 2011
San Francisco 49ers (9-1)
at
Baltimore Ravens (7-3)
Location: M&T Bank Stadium
Time: 5:20 pm pst
I'll be honest, when I saw the Ravens on the schedule I was worried. When I realized it was on Thanksgiving, I was bummed. I feared the national TV embarrassment. Not any more. I think this 9ers team is just as good, if not better, than the Ravens. We're gonna find out and the nation will be watching.
I just find the Ravens so likable. I don't know if it's because the Niners have been trying to be the Ravens West for about 8 years now. Or it's just that they have these guys:
and we have these guys:
And we have this guy:
whom we hope can turn into this:
And they have this:
But we have this:
Uhhhhh, nevermind. I'm not going there.
And I just want to say that this guy:
Deserves better. For years, when he sucked, everyone said "you suck." This season, he hasn't sucked, and yet, people still say "you suck." Pretty unfair to a guy that has had a rough career and is perceived as a pretty good dude.
He's going to need to be accurate as hell in the intermediate routes cause the Ravens are going to bring a ton of heat. Hopefully we can get some good protection on a couple of deep balls to this guy: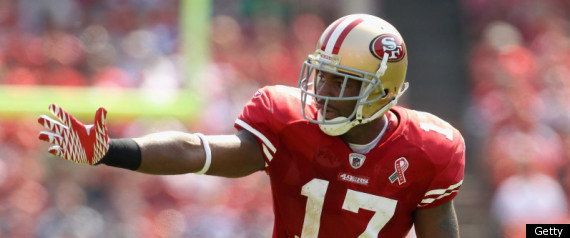 He's my pick for breakout 9er this game. He hasn't been a big enough factor yet and he's going to have the national spotlight to perform.
Lastly, call me crazy, but I wouldn't mind seeing a lot of this in the slot:
I like his intermediate game very much.
Standings: A matchup of 2 first-place teams!
NFC West
1. San Francisco 49ers (9-1)
2. Seattle Seahawks (4-6)
3. Arizona Cardinals (3-7)
4. St. Louis Rams (2-8)
AFC North
1. Baltimore Ravens (7-3)
1. Pittsburgh Steelers (7-3)
3. Cincinnati Bengals (6-4)
4. Cleveland Browns (4-6)
Special Note: If you thought the Niners would win 9 of their first 10 games, raise you hand. Nobody, huh? So, for Thanksgiving, lets give thanks for the amazing first 11 weeks of the season, and just remember