Week 17:
Sunday, January 1, 2012
San Francisco 49ers (12-3)
at
St. Louis Rams (2-13)
Time: 10:00 am pst
Location: Edward Jones Dome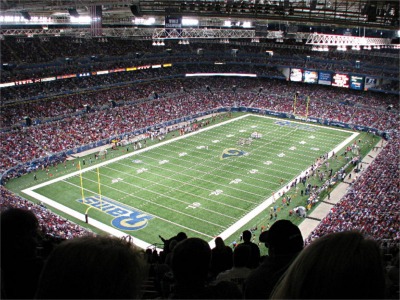 Must win. We all know what's at stake. Going 13-3 and getting a first round bye would cap an amazing regular season. Of course, if we beat their ass, they may end up getting this
which is kind of funny considering this
Will miss the game with a bum ankle.
Or they could trade the pick and be remembered as the team that passed on Luck. Have fun with that.
This game just scares me. It should be a rout, something like 26-0. Pure guess. But it will probably be much closer this time. Something like 24-0.
A thousand words.
1 more sack and he sets the rookie record. Badass. I want this record.
So, ummmm, none of this?
Curious timing to cut Braylon. Must be some locker room drama or something distraction related to cut him at this point. Also, I didn't use a game picture because I'm not sure he ever played in a game.
Dear Brett Swain ...
... I hope you don't suck
Sincerely,
Everyone.
Whatever. Just win this ******* game convincingly.
Standings:
1. San Francisco 49ers (12-3)
2. Arizona Cardinals (7-8)
2. Seattle Seahawks (7-8)
4. St. Louis Rams (2-13)
Special Note:
Special Note II: My latest creation