2012 NFL Draft
Thursday April 26th – Saturday April 28th
Location: Radio City Music Hall
Time:
• Round 1: Thursday, April 26 (8 p.m. ET)
• Rounds 2-3: Friday, April 27 (7 p.m. ET)
• Rounds 4-7: Saturday, April 28 (noon ET)
San Francisco 49ers Selections
Round 1, Pick 30 (#30 Overall)
Round 2, Pick 29 (#61 Overall)
Round 3, Pick 29 (#92 Overall)
Round 4, Pick 30 (#125 Overall)
Round 5, Pick 30 (#165 Overall)
Round 6, Pick 29 (#199 Overall)
Round 7, Pick 30 (#237 Overall)
San Francisco 49ers Team Needs
RG (1)
San Francisco 49ers Depth Needs
CB (1), WR(1), OLB (1), S (1), Fleener(1)
San Francisco 49ers Depth Chart
HC: Jim Harbaugh
OC: Greg Roman
DC: Vic Fangio
ST: Brad Seely
Offense
QB – Smith, Kaepernick, Johnson, Tolzien
RB Gore, Hunter, Dixon, Jacobs, Cartwright
WR – Moss, Crabtree, Manningham, Williams, Swain, Ginn
LT - Staley
LG - Iupati, Chisolm
C – Goodwin, Beeler
RG – Kilgore, Boone
RT - Davis, Person
TE – Davis, Walker, Byham, Reuland
FB - Miller
Defense
DE – Smith, McDonald, Dobbs, Tukuafu
NT – Sopoaga, Jean-Francois, Williams
OLB – Brooks, Smith, Haralson
ILB – Willis, Bowman, Grant, Gooden
CB – Rogers, Brown, Culliver, Brock, Cox , Nelms, Holcomb
SS – Whitner, Spillman
FS - Goldson, Jones
Special Teams
P - Lee
PK - Akers
LS – JENNINGS
OK, enough with the pre-game stuff. Let's talk draft.
I believe in these guys
Their first draft together was outstanding, yielding
This
This
This
This
And this
Not a bad first haul. And you got this guy waiting in the wings
Also, I found this
Notice the hat … and also … the ******* badass ballpark in the background.
I'm sold. If they can put together a similar draft this year, this team will be loaded … with depth. Awesome.
I honestly don't remember a time where there wasn't really a need to be filled at the draft. If they think Kilgore is ready, then all 22 spots are filled with viable starters. They can truly go best player available. Again, awesome. Unless they take a kicker, anybody they take can be easily justified. A high upside guy that will be a backup or rotational player is a strong possibility.
So, which player can they take that will provide the most instant impact?
This guy for sure. Immediate red zone target.
This guy has crazy upside. But he's pretty raw.
This guy? Isn't he like, fat, or something?
Who's the best player that may fall far enough for the Niners to trade up?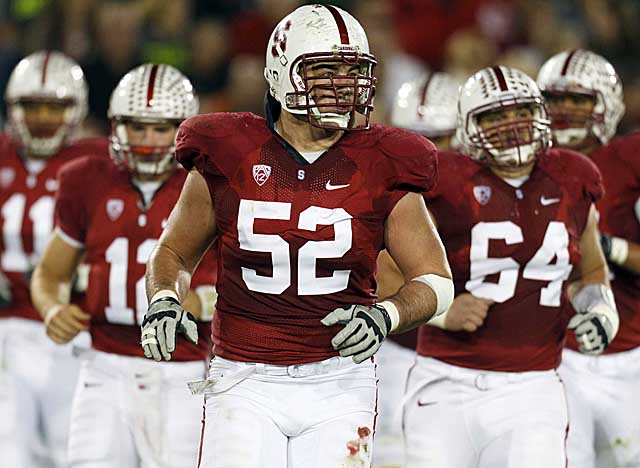 He's a badass. All-Pro potential. I want. Also, because this came up on his google image search
Outside of trading away a 1st next year, I'm open to trade up ideas to land DeCastro.
There are two other players that I'm overly high on
Brandon Boykin
And Tommy Streeter
I think Boykin can come in immediately and make plays. Streeter will need a little time, but there is so much to work with. I think he and Stephen Hill have the same upside. But you can get Streeter much later in the draft.
And finally, for you Robert Turbin lovers
Fap away.
Special Note: