Week 10:
Sunday, November 11, 2012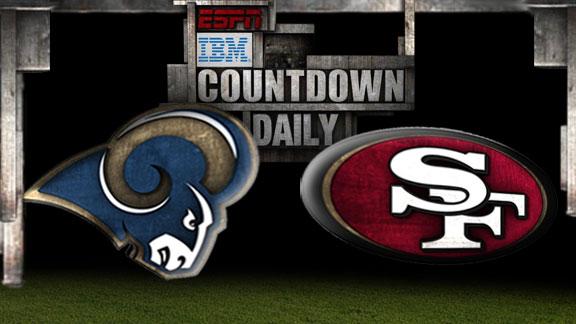 Los Angeles Rams (3-5)
At
San Francisco 49ers (6-2)
Location: The Stick
Time: 1:25 pm pst
Line: SF -12.5
Announcers (FOX): Chris Myers, Tim Ryan, Jaime Maggio
Rams week. Our supposed rival. Ah, who am I kidding. We stomp these guys perennially. This year seems no different.
So, the Rams were so bad last year. They got the No. 2 pick. They selected this guy:
We are officially ****** for the next decade. Heís going to own our division. Probably bring in a couple of Lombardiís. Dammit. Dammit. Dammit.
But hey, they still have their previous Golden Boy, setting up a nice and tidy battle of the #1 overall disappointment QB picks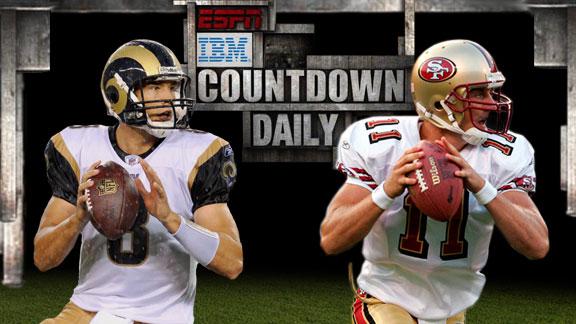 This game will be hard-pressed to beat last yearís 26-0 beating, where this happened:
And this:
And then this happened: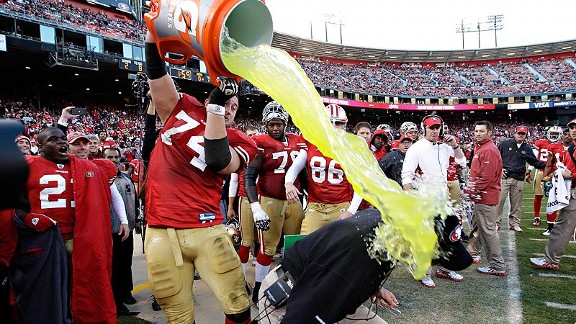 And finally this:
Hard to beat all that.
OK Greg Roman, Iím begging you, unleash the beast:
We all know heís ďnight and dayĒ worse than Gronkowski, but I happen to think he is awesome. Trust me. He is. You can game plan some targets for him. For reals. Ö Try it.
The Rams have this guy: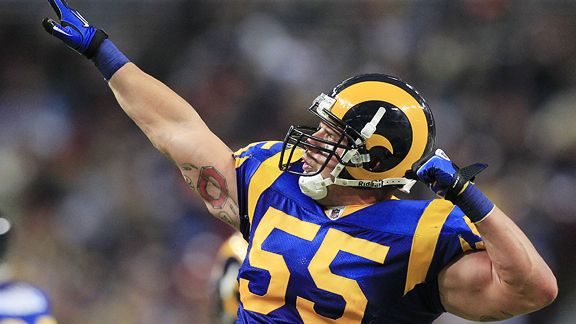 Iím sure there will be a pile somewhere in need of a good jumping-on and I know James Laurinitis is just the man to accept that challenge.
They also have this: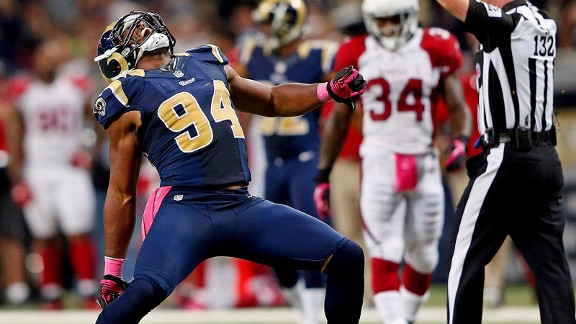 Some people wanted Robert Quinn. The Niners took Aldon Smith. Win.
Ugh, itís never fun to have to face a player that will absolutely try and wreck your career, whether it is legal or not:
I hate him. Sooooo much. Even more so once he signed with the Rams. **** you Cortland. And seriously? Cortland? Did you grow up living with Carlton as the Fresh Prick of Bel Air?
Well, they always have this guy
Although they just donít seem to like him anymore. Sounds a lot like my wife.
But we still got this:
BTW, Frank is kinda scary:
I still don't understand how he hasn't been featured in an X-Men movie.
Canít wait to see these guys back in action. They are crazy good this year.
A lot of people are talking about the Rams D-line, so I will be keying on this matchup.
The Niners D-line, on the other hand, should prison-rape the Rams Oline.
***No picture for this one. Prison-rape is censored on this site. Also, because Iím super afraid of what Iíll see if I do an image search for prison-rape.
And what the hell, might as well talk his guy:
Last we saw him, he was on national tv going 18 of 19 with 3 tds and 0 picks. Suck it Sam Bradford.
Standings
NFC West
1. San Francisco 49ers (6-2)
2. Seattle Seahawks (5-4)
3. Arizona Cardinals (4-5)
3. St. Louis Rams (3-5)
Special Note: