Veteran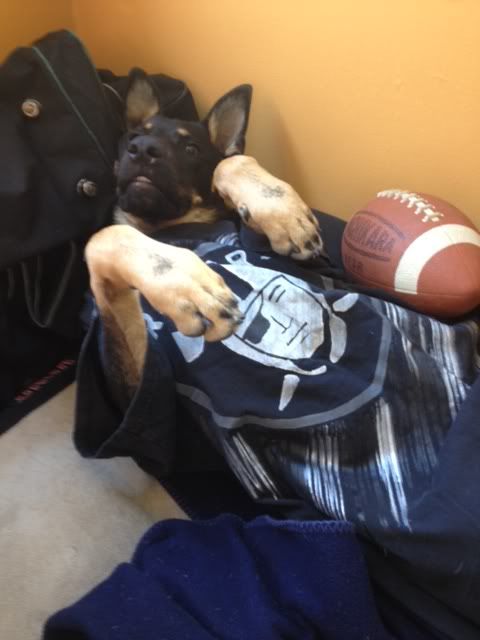 Join Date: Sep 2012
Posts: 716
Reputation: 469019
Week 9 Synopsis
---
I hope everyone voted today. Lets go Obama! If you watched the MNF interviews last night, Id say Obama is clearly a more knowledgable football fan. Romney claiming credit for NE superbowls = not cool. Obama putting pressure to get the college playoff done and pointing out it should be 8 teams +++


Week 9 Synopsis

Power Ten

1. Atlanta Falcons, 8-0 (1) - You really have to applaud the way the Falcons are closing out games, especially on offense. When they're up one score late in the game and need to put together a nice drive to ice the game, they execute with confidence.

2. Chicago Bears, 7-1 (2) - The Bears have been the most dominant force in the league this year. They haven't played the toughest schedule and played an awful game against the Packers, but have been blowing away their competition in most games.

3. San Francisco 49ers, 6-2 (4) - The 49ers got a bye this week to rest and gear up for a second half run. Seattle is looking to give the 49ers a run for the division, but the Niners might just be too good to catch. They have made it through the first half relatively unscathed as far as injuries, and the offense looks like it should continue to grow.

4. Houston Texans, 6-1 (5) - Last year was all about the 1-2 punch of Arian Foster and Ben Tate. With Tate on the sideline with a nagging hamstring injury, Foster has had no problem stepping up and becoming the workhorse. He has 10 rushing touchdowns, 3 more than the next best in the league.

5. Green Bay Packers, 6-3 (6) - The Packers get badly needed bye to rest up and try to get some guys healthy. Afterwards, they face a brutal stretch run that includes 5 divisional games and a playoff rematch with the defending champs.

6. Pittsburgh Steelers, 5-3 (8) - With the amount of injuries the Steelers have sustained, it's amazing they are 5-3 at this point in the year. The good news is that they have a relatively easy second-half schedule and should be getting all their guys back in the near future.

7. New York Giants, 6-3 (3) - The Giants look great times, but losses like this week remind us of just how beatable this team is. The strangest thing about the Giants has to be how poorly they play at home. It's great that they play so well on the road, but they can't seem to win any meaningful games at home. They had to pull off comeback wins against Tampa Bay, Cleveland, and Washington, and had ugly losses against the Cowboys and Steelers.

8. New England Patriots, 5-3 (7) - The Patriots have to start playing with more consistency coming out of their bye. They are dominant at times, but have looked very vulnerable in some games. Their pass defense has been a major problem, and they made a smart trade for CB Aqib Talib to bolster their secondary. If Talib buys into the Patriots' culture and stops getting in trouble off the field, he could be a big-time player for them.

9. Denver Broncos, 5-3 (9) - The resemblances between the Broncos today and the Colts in Peyton's heyday are striking. LT Ryan Clady gives Peyton protection that has to remind him of his years with Tarik Glenn, and Demaryus Thomas and Eric Decker don't measure up that bad against Marvin Harrison and Reggie Wayne. The defense is light and speedy with great pass-rushing ability, which plays perfectly into Peyton's ability to open up leads and control the clock.

10. Seattle Seahawks, 5-4 (11) - There may not be a coach in the league better than Pete Carroll at finding overlooked talent. The Bills gave up on Marshawn Lynch and traded him to Seattle, where he has established himself as an elite back, for a fourth round pick. His secondary, which is widely considered the best in the league, features three starters (Brandon Browner, Richard Sherman, Kam Chancellor) who the rest of the NFL took a pass on. Sherman and Chancellor were both 5th round picks, and Browner went undrafted.


Week 9 Storylines

1. Bears defense keeps scoring
It's getting to a point where it would seem strange if a week went by without the Bears scoring a touchdown on defense. They started early with a blocked punt for a touchdown, and then followed up on it when Brian Urlacher returned an interception 46 yards for a TD. Dating back to his days as defensive coordinator in St. Louis, Lovie Smith has consistently been masterful at coaching his teams to create turnovers.

2. Carson Palmer: Good and Bad Carson
Palmer has dealt with criticism since being dealt to the Raiders, but has quietly been having a solid season for the Raiders. Despite his run game being completely ineffective, Carson has been moving the ball well with his motley group of receivers. This week, he seemed primed to get a hero's ovation at the Coliseum after leading the Raiders back from a 35-17 fourth quarter deficit. However, his completion to wide-open Buccaneer DB Ahmad Black with 2 minutes to play made his 414 passing yards and 4 TDs count for nothing. Palmer deserves a lot of credit for being unflappable and finding ways to move the ball in challenging situations, but he has to be more careful with the ball down the stretch in close games. The Raiders top two running backs (Darren McFadden and Mike Goodson) both suffered high ankle sprains this week, and third-stringer Taiwan Jones is a constant fumble-waiting-to-happen. Expect a lot of shotgun looks with FB Marcell Reece as the single back, a lot of Carson throwing the ball, and more of the good and bad Carson.

3. Seahawks still perfect at home
The Vikings, Patriots, Cowboys and Packers have a combined record of 19-11 in games not in the state of Seattle, but have all come to Qwest field and lost. If the Seahawks can find a way to beat the 49ers, they should be able to go 8-0 at home this year. If they can steal wins on the road against the Dolphins and Bills, they have a great shot to get into the playoffs.

4. Norv Turner: The Cockroach of Coaching
Every time it looks like the Chargers are going to hand Norv Turner his pink slip, he comes up with a win. After starting 3-1, the Chargers had lost four straight and seemed to be on the verge of collapse. Their win of the hapless Chiefs gave them new life, but there's still little reason to believe this team is going to finally turn the corner. The Chargers still seem to be a sinking ship, but Turner continues to whether the storm and stay afloat.

5. Cam Newton outduels Robert Griffin
In a matchup of the league's two most electrifying young signal callers, the sophomore took down the freshman. Robert Griffin has been enjoying a phenomenal rookie season for the Redskins while Cam Newton has been unable to regain his rookie form. Both the Panthers and Redskins are struggling, but Newton played one of his best games of the year and helped the Panthers snap a 5-game losing streak.

6. Dancing at my daughters' weddings
Coach Chuck Pagano's battle with Leukemia has been a great inspiration for the Colts. The team has rallied around its coach, winning four of five since his diagnosis. Pagano felt strong enough to attend this week's game, and gave a great speech in the locker room where he told the team that he was going to live to dance at the weddings of his two daughters and raise the Lombardi trophy with the team. Moments like this remind us of the brotherhood that can exist in locker rooms and that football is about more than winning a game.

7. Eli struggles against Steelers
It's been awhile since we've seen Eli Manning play this poorly, especially in the fourth quarter. Trailing 20-10 in the fourth quarter, Ben Roethlisberger and the Steelers' offense predictably started making plays. In three fourth quarter possessions, Eli Manning completed only one pass and it was a 1-yard completion on third and eight. He also took two big sacks and fumbled the ball. Eli finished the game 125 yards, no touchdowns, one interception and a QB rating of 41.

8. Flacco on and off
As good as Joe Flacco looks at times, it's hard to understand how the Ravens offense goes to sleep as often as they do. Knowing he needs to step up because of injuries to the defense, Flacco started this week's game by completing his first 10 passes and helping the Ravens build a 14-0 first quarter lead. The Ravens' offense then went dormant until the Browns took a 15-14 lead with 9 minutes to go. Flacco promptly drove the Ravens down the field, threw a touchdown to Torrey Smith, and completed the 2-point conversion to put the Ravens up a touchdown. Where was that all game? Flacco can't count on his defense to close out tight games anymore and needs to learn to put teams away when he has the opportunity.

9. Lions roar
Don't look now, but the Lions have won three of their last four and are right back in the playoff race. For the first time this year, they played a game decided by more than a touchdown. Not that dominating the Jaguars is any big accomplishment, but the Lions are finally starting to look like the team that made the second round of the playoffs last year. The Lions have crucial divisional games against the Vikings and Packers the next 2 weeks which will dictate what direction their season is headed.

10. Eagles Red Zone Struggles Continue
It's unbelievable how many catastrophic plays the Eagles have had deep in their opponents' territory. This week, the Eagles had 447 yards of offense, but only 13 points to show for it. This has pretty much been the norm for the Eagles, who rank 10th in yards per game, but 30th in points per game. It should come as no surprise that the Eagles lead the NFL in yards per point. The problem starts up front with their blockers, who have shown no ability to seal off the edge and give LeSean McCoy or Michael Vick the opportunity to break it outside. Having a group of small receivers and an inaccurate QB also doesn't help when you have to fit the ball into tight spaces. Vick's slightly overthrown pass off the outstretched hands of TE Brent Celek that resulted in a 99-yard pick six was pretty much the Eagles' season in a nutshell.

Game Balls

1. HB Doug Martin, Buccaneers
Martin had what will probably be the best fantasy game of the year for any player. He broke TD runs of 45, 67, and 70 yards, and finished with 251 yards and 4 touchdowns on 20 carries. The Raiders and Bucs were in a tight game before Martin took the game over in the third quarter. He shook off tacklers all day, and showed a second gear once he got out in the open that no Raider could match.

2. OLB Von Miller, Broncos
The Bengals gave the Broncos all they could handle this Sunday. The much anticipated matchup between WR AJ Green and CB Champ Bailey was clearly going in Green's favor, and QB Andy Dalton wasn't having much problem finding open receivers in the Denver secondary. Denver's pass-rush helped close out the game, with Miller getting three of the team's five sacks.
3. HBs Mikell Leshoure and Joique Bell, Lions
The Lions aren't used to getting much out of their run game, but that wasn't the case this week. The Lions showed great balance on offense this week, with Leshoure and Bell accounting for 143 yards and 4 touchdowns on 29 carries. Thus, QB Mathew Stafford was able to play his most efficient game of the year and didn't need to come up with any late heroics.


4. WR Brandon Marshall, Bears
Brandon Marshall has to be thrilled about being traded to Chicago. With his old buddy Jay Cutler throwing him the ball, he is second in the league in receiving yards, and third in receiving touchdowns. He is clearly the focal point of the offense, and for the first time will have a chance to be on a championship team. He caught 9 of 10 passes thrown to him this week, including three touchdowns.

5. CB Brandon Browner, Seahawks
The entire secondary probably deserves a game ball for the way they shut down the Vikings' passing attack, and Browner was the group's standout. They limited QB Christian Ponder to just 63 passing yards, and held Percy Harvin to just 10 receiving yards. Adrian Peterson spent a lot of time running loose in the Seattle secondary, and Brandon Browner did his part in run support by recording 7 tackles. When Ponder threw deep to Harvin late in the fourth quarter, Browner picked it off to seal the deal.
6. HB Jacquizz Rodgers, Falcons
The Falcons got big games from their star players: QB Matt Ryan, WRs Roddy White and Julio Jones, and HB Michael Turner. Still, the Cowboys kept the game close and might have been able to win the game if their defense could just tackle Rodgers. Turner was running strong, but Rodgers' ability as a 3rd down back proved to be a decisive factor. The Falcons took over at their own 20 with 5 minutes left in the game and up by a field goal. Twice, they faced crucial third downs, and Matt Ryan checked down to Rodgers. Both times, Rodgers caught the ball with a defender between him and the first down. Rodgers eluded the would-be tacklers with ease and picked up 42 yards on the two plays, allowing the Falcons to kill almost the entire game clock and extend their lead to six points.

7. LB Luke Kuechly, Panthers
The Redskins love to spread defenses out and force defenders to make plays in space. No problem for stud rookie Luke Kuechly, the league's newest tackling machine. Kuechly racked up 15 tackles as the Panthers' limited the Redskins' high-flying offense to just 13 points. Only Pittsburgh has held the Redskins to less points this year.

8. HB Isaac Redman, Steelers
Going against a team that rushes the passer as well as the Giants, it was important the Steelers establish the run. With Rashard Mendenhall and Jonathan Dwyer out, there wasn't much reason for optimism about the Steelers' run game. Coming into the game, Redman had just 127 yards on 50 carries. He played a huge role in the Steelers' road win this week, rushing for 147 yards on 26 carries this week. His touchdown run with 9 minutes to go put the Steelers up for good.

9. QB Andrew Luck, Colts
Andrew Luck didn't have the fastest start to his rookie campaign, but he is really building steam now. Luck broke a rookie record by passing for 433 yards and led the Colts to a come-from-behind 23-20 win over the Dolphins. Despite throwing the ball 48 times, Luck didn't commit any turnovers and took only one sack. The young QB is showing more command of his offense every week.

10. DE Cameron Jordan, Saints
The story of the Saints' win over the Eagles on Monday night had to be their pass-rush. They sacked Vick seven times and never let him get comfortable in the pocket. Jordan personally hit Vick 5 times and sacked him 3 times.
---
Last edited by Eazy Picks : 11-06-2012 at

10:08 PM

.