Veteran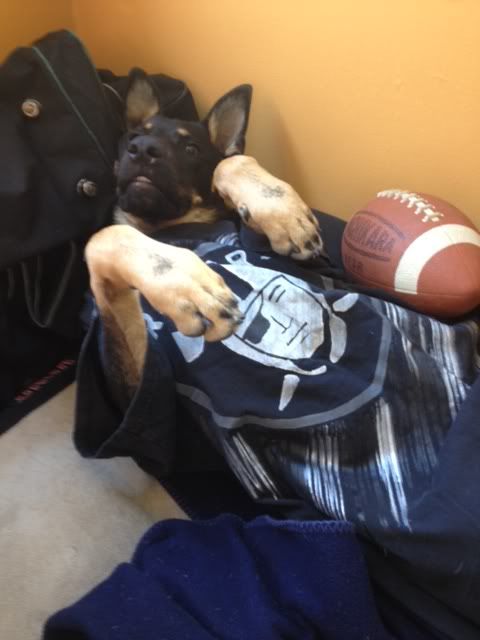 Join Date: Sep 2012
Posts: 716
Reputation: 469019
Colts Season Preview
---
ChuckStrong to LuckStrong
2013 Indianapolis Colts Season Preview

The Colts were the feel-good story of last season, using the inspiration of
their coach fighting leukemia to go from 2-14 to 11-5. Nobody expected the Colts to make such a quick turnaround from the Peyton Manning era, but they were able to turn a 9-2 finish into a playoff berth despite being outscored by 30 points over the course of the season. Itís fair to say the Colts overachieved last year, but that doesnít mean they wonít be an improved team in 2013. Chuck Pagano is healthy and will be back on the sidelines, and his presence should do wonders to help the defense. Andrew Luck may be the best of all the young quarterbacks in the league right now, and he could really blossom in his second season with an improved supporting cast.

Offense

QB - Andrew Luck, Matt Hasselbeck
HB - Ahmad Bradshaw, Vick Ballard, Donald Brown
FB - Stanley Havli
TE - Dwayne Allen, Coby Fleener
WR - Reggie Wayne, Darrius Heyward-Bey, TY Hilton, Nathan Palmer, Lavonn Brazill
LT - Anthony Castonzo, Bradley Sowell, Justin Anderson
LG - Donald Thomas, Jeff Linkenbach, Joe Reitz
C - Samson Satele, Khaled Holmes
RG - Mike McGlynn, Hugh Thornton
RT - Gosder Cherilus, Ben Ijalana

Andrew Luckís rookie season didnít go by without some struggles. While he showed great ability to lead the team to victory in the clutch, he also threw 18 interceptions, finished with a 76.5 QB rating, and was sacked 41 times. The Colts picked up Cherilus to firm up the right side of the line, but the offensive line is still an obvious weakness that the Colts will have to overcome. Ahmad Bradshawís skills as an interior runner and pass protector could ease some pressure off Luck.
Meanwhile, the progression of Luck and all the young offensive weapons makes the Coltsí offense a unit to watch out for. Pep Hamilton, Luckís offensive coordinator from college, will be taking over the same position this year in Indianapolis, which should help the young signal callerís comfort level. Luck developed an instant chemistry with Reggie Wayne, who finished with his eighth 1000-yard season and fourth 100-reception season of his career catching balls from the rookie phenom. Wayne wonít be Luckís only safety blanket, as the team drafted an excellent pair of tight ends in last yearís draft. Most expected Coby Fleener to have great success catching passes from his college quarterback, but it was actually Dwayne Allen who emerged as the more complete player. Fleener is better for stretching defenses and creating mismatches, but Allenís steady hands, short-area quickness, and prowess as a blocker canít be ignored. With two tight ends that complement each other so well, the Colts should frequently utilize double-TE sets to take some pressure off Luck.

Switching Gears
With Bradshaw and two quality tight ends, the Colts will have a nice power package in place. But their identity wonít be limited to that, as they have some dynamic weapons they can put on the field when they want to score points in a hurry. Ballard gives the team a pair of fresh legs off the bench, while Hilton and Heyward-Bey give them a pair of dynamic receiving threats. Hilton finished his rookie season on a tear, establishing himself as one of the leagueís most dangerous big play threats by leading the league with six touchdown catches over 20 yards. The burner out of Florida International is a dynamo with the ball in his hands and has the potential to quickly develop into one of the gameís premier slot receivers. Darrius Heyward-Bey will forever be remembered as the guy Al Davis drafted way too high because of his blazing 40 time. Early in his career, he was a grossly overpaid talent who looked lost on the football field and struggled to catch the football with his hands. Because of the overall struggles the Raider franchise has been going through, Heyward-Beyís positive progression has gone largely unnoticed. For the past two years, he has been playing with confidence, using his size and speed to his advantage and flashing the ability to make tough catches in traffic. In Indianapolis, he should see a lot of single coverage, and will have a great young passer throwing him the ball. In other words, he will have the perfect opportunity to show the league what he can do as he gets ready to hit the open market next year. The Coltsí three-receiver package has the potential to be one of the most dangerous and explosive in the league.

Make or Break Year: LT Anthony Castonzo
Nothing should be more important to the Colts than protecting their franchise quarterback, who has already shown the makings of a future hall-of-famer. Castonzo has been tasked with the most critical position in that area, protecting Luckís blindside. While he showed himself to be a capable run blocker, Castonzo was among the league leaders in sacks allowed, hits allowed, and hurries allowed last year. The Colts drafted Holmes and Thornton because they know interior of their offensive line clearly needs some work, but whether or not their 2011 first-round pick will become their franchise left tackle will be a big question that could be answered this season.

Defense

DE: Cory Redding, Ricky Jean-Francois, Fili Moala, Ricardo Mathews, Drake Nevis
NT: Josh Chapman, Aubrayo Franklin
SLB: Robert Mathis, Bjoern Werner
ILB: Jerrell Freeman, Pat Angerer, Kelvin Sheppard, Kavell Conner
WLB: Erik Walden, Justin Hickman
CB: Vontae Davis, Greg Toler, Darius Butler, Cassius Vaughn, Josh Gordy
FS: Antoine Bethea, John Boyett
SS: LaRon Landry, Joe Lefeged

Chuck Pagano knew he had a serious project on his hands when he began overhauling the aging Indianapolis defense and switched to a 3-4 scheme. Their deficiencies were apparent last year, as they ranked 31st in yards allowed per play, 28th in total yards allowed, 31st in rushing yards per attempt, 29th in rushing yards per game, and 27th in yards allowed per passing attempt. However, their 12th ranked red-zone defense and 15th ranked 3rd down defense masked some of their deficiencies. The Colts did not take a passive approach to upgrading their unit, signing five free-agent defenders expected to log heavy snaps and spending their first-round pick on a pass-rusher.
While there are no standouts on the Coltsí defensive line, they are stacked with players who fit into the scheme quite well. Jean-Francois played quite well in San Franciscoís 3-4 defense when Justin Smith got hurt last year, and Redding has experience playing the same position in Baltimore when Pagano was the defensive coordinator. Moala, Mathews, and Nevis havenít shown much yet, but they all possess the attributes you look for in a 3-4 defensive end. The Colts did well to add a seasoned run anchor with lots of 3-4 experience in Aubrayo Franklin, and hope that he and a healthy Josh Chapman can form an effective platoon at nose tackle. Robert Mathis made a successful transition to the hybrid linebacker position last year, but at 32 years old it would be nice to limit his snap count. This will only happen if they can get strong play from two wild cards: rookie Bjoern Werner and free-agent signee Erik Walden. Walden was never a strong player in Green Bay, while itís unclear how well Werner will take to playing without his hand in the dirt. The Colts finished 23rd in the NFL with 32 sacks last year, a number they would like to improve upon.


Success Story: ILB Jerrell Freeman
2012 presented this 26 year-old rookie with the opportunity of his life, and he took full advantage of it. Freeman was a two-time division-3 all-american and was named the 2007 defensive player of the year, but didnít get drafted and was unable to make an NFL roster. After three years of strong play in the CFL, he found himself on the Coltsí roster with a starting opportunity staring in his face. 145 tackles, 2 sacks, 1 interception and 1 touchdown later, and suddenly he is being looked at as a centerpiece. With Pat Angerer struggling with injuries, the Colts are really relying on Freeman.

Solid as they come: FS Antoine Bethea
After being selected in the sixth round of the 2006 draft, Bethea established himself as an instant starter and has since racked up 696 tackles, 12 interceptions, 41 passes defended, and a Super Bowl ring. He will be the captain of a secondary that includes two ultra-talented first rounders who are not blessed with his consistency. LaRon Landry brings a physical presence and is a very active playmaker, but he also gives up too many big plays. Vontae Davis is a solid cover corner who has never lived up to his ability, but when facing top receivers, it is important to have a corner who can athletically match up with them. Greg Toler has quietly been playing very solid football the past couple years in Arizona and is a nice addition to a secondary that needed another corner who could start on the outside. Darius Butler and Cassius Vaughn provide solid depth, but are best in reserve roles. If the rest of the secondary can take their cues from Bethea and limit mental mistakes, a strong coverage unit could be what turns this defense around.

Special Teams

K: Adam Vinatieri
P: Pat McAfee
KR: Cassius Vaughn
PR: TY Hilton

Even at forty, there is no one youíd rather have kicking a field goal with the game on the line than Vinatieri. They are in good hands with McAfee at punter, and Hilton is the kind of punt returner who can take one the distance at any time. The Colts coverage units ranked 7th against punt returns and 11th against kickoff returns last year.

Schedule Analysis
Having the Raiders at home week 1 is a nice luxury, giving the team a chance to shake off the rust without great pressure. Their schedule is challenging after that, but they have the benefit of getting tough match-ups against the Dolphins, Seahawks and Broncos at home, and winnable road games in Jacksonville, and San Diego. The Colts will need to be at their best coming out of the bye, when they have 4 games against the Texans and Titans in a seven-week span that will likely determine the division crown. If the Colts find themselves in the thick of the playoff race down the stretch, they finish the season with a pair of very winnable games against the Chiefs and Jaguars.