Veteran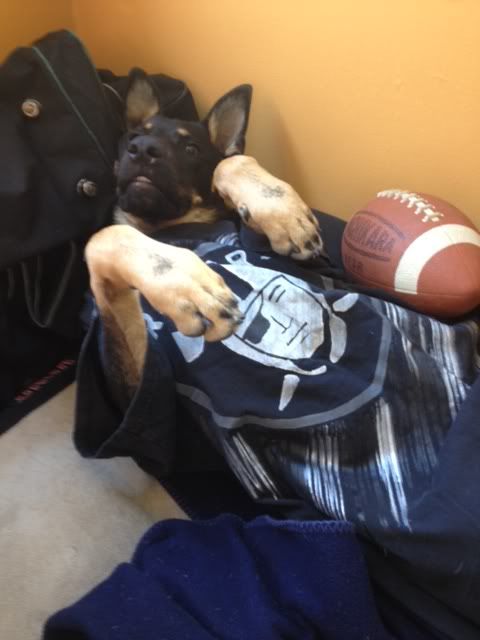 Join Date: Sep 2012
Posts: 716
Reputation: 469019
Giants Season Preview
---
Under coach Tom Coughlin, the Giants have set a gold standard for playing to the competition. As evidenced by the teamís two Super Bowl wins, they can beat the best of competition when the pressure is on. But the Giants have also failed to establish themselves as a powerhouse team because they have the bad habit of playing down to their competion. Head-scratching losses have caused them to miss the playoffs in three of the past four years, and begs the question of just how good the Giants really are. There are still a lot of players on this team that helped them win Super Bowls, but there is some clear rebuilding going on in some areas.

Offense

Eli Manning is a the kind of quarterback who makes his receivers better and can produce without great weapons, but he shouldnít have anything to complain about this year. With Hakeem Nicks healthy and Victor Cruz signed to a long-term deal, Manning has his two favorite receivers back. Brandon Meyers gives him the best receiving tight end he has had in some time, and with Rueben Randle, Louis Murphy and Ramses Barden coming off the bench, Manning has to feel great about his arsenal of weapons. With David Wilson taking over the starting running back job and Ahmad Bradshaw and Brandon Jacobs gone, the offensive identity is changing. With a smaller, dynamic back like Wilson expecting to play a starring role, the Giants should be using a more wide-open attack this year. This will put a lot of pressure on Eli Manning, but he is a 2-time Super Bowl MVP and he should be able to handle it.

Rebuilt Offensive Line
One of the great reasons for optimism that the Giantsí offense will be good is the emergence of left tackle Will Beatty, who stepped into the starting job and did a nice job protecting Eli Manningís blindside. The team struggled through the rebuilding of an offensive line, but the unit seems to have shaped up quite nicely. Chris Snee remains one of the gameís better guards, and David Baas and Kevin Boothe have turned out to be solid stop-gap starters. David Diehl has been showing some signs of decline, but the team used a first round pick on Justin Pugh, who will push for playing time.

Key Player: HB Andre Brown
David Wilson could be a breakout star this year, but his game has limitations. The Giantsí offense will change to fit his skill set, but someone is going to have to do the tough running for the Giants. Andre Brown was brilliant in short stretches for the Giants last year, and now they want to see if he can do it for a full season. If Brown isnít effective, it could really throw off the balance of the offense. As good as the Giantsí passing game figures to be, itís never a good thing to be one-dimensional.

Bottom Line: The Giants have the pieces for a powerhouse offense, but they need guys to stay healthy. The team has a lot of hopes pinned to David Wilson, who still has a lot to prove.

Defense

During their two Super Bowl runs, the Giants have had defensive lines that wreaked havoc. In 2007, it was Michael Strahan, Osi Umenyiora, and Justin Tuck dialing up the pressure. In 2011, it was Tuck, Umenyiora and Jason Pierre-Paul. This year, the team will have to overcome the loss of Umenyiora and the nagging injuries bothering Pierre-Paul and Tuck. If healthy, they can be a dominating pair of pass-rushers, which is what their defense needs them to be. Mathias Kiwanuka should be able to step into Umenyioraís role pretty naturally as a rotational edge rusher, but he could be pushed for snaps by rookie Damontre Moore, who is showing great disruptive ability. A big difference between this year and the last is the depth the Giants have on their interior line this year. Free-agent addition Cullen Jenkins is 32 and coming off a down year, but is a great interior penetrator who fills a need here. Linval Joseph has emerged as a solid starter at the other DT spot, and they have veterans Shaun Rogers and Mike Patterson coming off the bench along with rookie Johnathan Hankins, who could play in important role as a run stuffer.

Weak Spot: Linebacker
Thereís just no way the Giants can be going into this season feeling good about where they are at the linebacker position. The Giants have not placed much importance on this position in the past, but they had productive linebackers like Antonio Pierce, Kawika Mitchell, and Michael Boley. They need someone to step up this year, but itís hard to see who thatís going to be. Mark Herzlich is an inspirational story, but he has limitations and he shouldnít be in any teamís starting lineup. Keith Rivers isnít a bad player, but it has become clear that he is never going to live up to his college stardom and program lineage. Jacquian Williams has talent but he still has a lot he needs to prove on the field. The Giants either need one of these guys or someone off the bench like Aaron Curry, Dan Connor or Spencer Paysinger to step up. If not, this group is going to end up hurting their defense.

Mystery Group: Secondary

Itís hard to say what the Giants are going to get out of this yearís group of defensive backs. Corey Webster has had some great years with the team, but his play fell off badly last year and he became a liability. Prince Amukamara is a good young corner who could be ready to take a leap into stardom. Aaron Ross, like Amukamara, seemed like a rising star after the Giants used a first round pick on him, but he was hamstrung by injuries and never grew into the player he could have been. At 30, he will try to have a comeback year in the same place his NFL career started. Jayron Hosley will be entering his second year and could see plenty of playing time, especially if injuries hit this group like in previous year. Antrell Rolle is the veteran of the group that the coaching staff knows they can count on, but his play hasnít exactly been stellar lately. Regardless, heís the kind of player you want on your side in a big game. Stevie Brown is the biggest enigma of the group, a safety who spent his early years as a backup in Oakland before landing in New York. When Kenny Phillips got hurt and Brown was thrust into the starting lineup, he shined, racking up 76 tackles, 8 interceptions, 2 FF, and 2 FR. As always with players who come out of nowhere and have great seasons, people want to see if they can do it again. Ryan Mundy was a quality backup in Pittsburgh and gives the Giants improved depth this year.

Special Teams

The Giants will have a new kicker this year in Josh Brown, a veteran who has had a hard time finding work the past couple years. Steve Weatherford will return to the Giants for his third year with the team, and should continue to help them in the field position battle. David Wilson has the ability to become one of the gameís most dangerous kick returners, and Rueben Randle and Jerrell Jernigan are also dangerous with the ball in their hands.

Schedule Analysis
Division Opponents: Dallas, Philadelphia, Washington
Inter-Divisional Play: NFC North, AFC West
Uncommon Opponents: at Carolina, vs Seattle

The season starts tough with a trip to Dallas for a primetime game the whole nation is sure to be watching, followed by a game that will be even more hyped. The Giants will be hosting the Broncos in their home opener, setting up another highly-anticipated battle between the Manning brothers. The Giants will play the Eagles twice in 4 weeks in the middle of the season, and the Redskins twice in 5 weeks at the end of the season - great opportunities to assert themselves in divisional play. The Giants get to play their toughest games (seahawks, broncos, packers) at home, but the Giants actually seem to play better in a hostile environment.