Veteran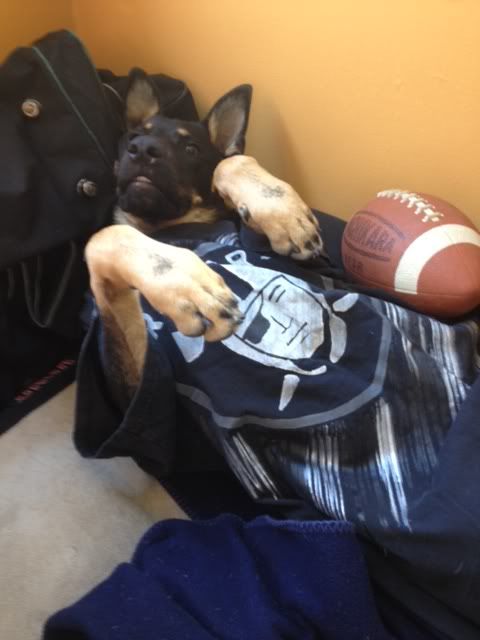 Join Date: Sep 2012
Posts: 716
Reputation: 469019
Seahawks Season Preview
---
OK, have at it Seahawks fans.



The Seahawks took the league by storm last year, winning seven of their final eight regular season games that included a three-game stretch that they won by a combined 120 points. Rookie quarterback sensation Russell Wilson sparked the offense while the defense stifled opponents, a formula that the team rode to the divisional round of the playoffs, where they lost a heartbreaker to the Atlanta Falcons. The Seahawks used the offseason to add some big names to their young and highly-talented group, setting the team's expectations very high. Playing in the rough-and-tumble NFC West, the team will need to be at its best to live up to the considerable hype surrounding them.

Offense
The Seahawks' offense is built off their strong game, which is spearheaded by HB Marshawn Lynch. For the past two seasons, Lynch has been playing at an elite level, rushing for a combined 2,794 yards and 23 TDs while leading the league in tackles broken. In 2012, their run game became a lot harder to defend with rookie QB Russell Wilson using his legs to punish teams with runs to the outside. By forcing edge defenders to stay in contain, their power run game has become even more effective. Lynch, a 7-year veteran who has not always been consistent, is one of the most punishing runners in the league, embracing contact at every opportunity. It is possible he is getting worn down and can't keep producing at this level, but the Seahawks have two young backs they feel very good about to take pressure off him. Robert Turbin and Christine Michael are both big, 220-pound backs who fit right into the Seahawks' offensive identity, meaning the Seahawks should be able to rotate their backs and wear defenses out. The Seahawks lack a good receiving threat from the running back position, but pro-bowl fullback Michael Robinson does give them a nice receiving option out of the backfield.

Rookie Sensation: QB Russell Wilson
From the start of last year's camp, Russell Wilson took control of the Seahawks' starting job. The Seahawks handed a sizable contract to QB Matt Flynn to come be their starter, but Wilson ended up taking the job by force with his impressive physical skills, football smarts, work ethic, and general demeanor. Standing at 5 foot 11, 205 pounds, Wilson is used to being told he can't make it as NFL quarterback, but he proved all doubters wrong last year. As a rookie, he threw 26 touchdowns to just 10 interceptions, posted a QB rating of 100, and ran for nearly 500 yards. He has instantly showed himself to be one of the game's great improvisers, and the accuracy and touch he throws the ball with is something to be marveled at. The Seahawks' offense figures to include lots of play-action, bootlegs, and option reads that get Wilson out in space where he can do what he does best, but he will have to prove that he can be effective quarterback from the pocket. He did well last year, but he also held onto the ball longer per pass than any other quarterback, and there are obvious physical reasons why it is more difficult for shorter quarterbacks to throw from the pocket.

Same Old Receivers
The Seahawks made a big splash by trading for WR Percy Harvin this off-season, hoping he could be the explosive playmaker that would put the offense over the top. After undergoing hip surgery, it appears Harvin will miss the majority of the Seahawks' season. This means Wilson will be throwing the ball to the same crop of receivers as last year, which isn't such a bad thing. Sidney Rice has had problems staying healthy, but he gives the team a big receiver who knows how to go get the ball when on the field. Golden Tate has some limitations, but he has an uncanny chemistry with Wilson. Wilson is great at scrambling and buying time, and he knows he can count on Tate to come back to the ball and make plays. Tate caught 45 passes and dropped only two last year, and he is a very dangerous runner with the ball in his hands. Doug Baldwin is probably the team's best route runner, and will probably line up on the outside a lot so Tate can work the slot. The depth is not great with Harvin out, but if these three can produce like last year, the Seahawks should be fine at receiver. It would be great if the team could get more out of tight end Zach Miller, who was one of the league's most productive tight ends in Oakland before signing a big contract and disappearing in the Seahawks' offense. He has all the skills you look for in a tight end, but is coming into the season banged up and just doesn't seem to be a focal point of the team's offense.

Unsung Heroes: LT Russell Okung & C Max Unger
Both Okung and Unger were among the best at their positions last year, and the team is counting on them to play at the same level this year. Strong blocking up front is essential to what the Seahawks do on offense, and these two guys set the tone. The rest of the line is questionable, with Paul McQuistan being an underwhelming performer and JR Sweezy and Breno Giacomini really struggling last year. The team would love for James Carpenter and John Moffit, two guards they spent high picks on, to step into the starting lineup. However, both have struggled to stay healthy and neither has been impressive on the field.

Defense
When talking about the Seahawk defense, you have to start with the secondary, which is generally acknowledged to be the best in the league. Richard Sherman may rub some the wrong with his brash talk, but it's hard to argue with his on-field results. The third-year pro has already established himself as one of the league's elite cover cornerbacks, and he has a huge chip on his shoulder about not getting picked until the fifth round. With Sherman (6'3'', 200 lbs) and Browner (6'4'', 220 lbs), the Seahawks have the biggest cornerback duo in the league, and they love to get physical and jam receivers at the line. FS Earl Thomas has only played three years, but has already earned the reputation as one of the league's most dangerous ball-hawks and he plays extremely well in deep coverage. SS Kam Chancellor, a 230-pound safety who loves to patrol the middle of the field, is the perfect complement to Thomas. Not surprisingly, the Seahawks finished near the top of the league in almost every statistical category for pass defense, including yards allowed (6th), opposing QB rating (3rd), yards per attempt (3rd), TDs allowed (2nd), and interceptions (8th) The Seahawks' secondary may have actually gotten better this year, with Antoine Winfield replacing Marcus Trufant as the nickel defender. At 36, Winfield is a shell of his former self, but he is still a very smart player and a feisty run defender.

Pass-Rushing Arsenal
The pass-rusher the Seahawks relied on most last year, DE Chris Clemons, tore his ACL in their playoff win against the Redskins. To bolster their depth, the Seahawks signed Cliff Avril and Michael Bennett, two true edge-rushers who combined for 18.5 sacks last year. However, Avril is a poor run defender who doesn't keep gap discipline and Bennett will likely be playing through a torn rotator cuff. If Clemons and Bennett look good, they can have a very strong trio of pass-rushers at defensive end. Red Bryant is still expected to start, but he does not offer much as a pass-rusher and will likely slide inside on passing downs. Brandon Mebane is a good run-plugging nose-tackle, but he lacks the ability to pressure the quarterback as well. One player the Seahawks may really miss this year is DT Alan Branch, who was a much better run-defender than his replacement, Tony McDaniel. The most curious story to watch may be Bruce Irvin's conversion to linebacker. Irvin is a scary athlete who emerged as an effective situation pass-rusher by posting eight sacks as a rookie, but he will miss the season's first four games because of a PED-related suspension, and will have to adjust to a new position. It seems like a great idea to get Irvin in space and turn him loose as a blitzer, but he could easily struggle in coverage and be slow to read and react to run plays.

Player Spotlight: MLB Bobby Wagner
The Seahawks used a second-round pick on Wagner last year and instantly inserted him into the starting lineup. Just as they did with Russell Wilson, they looked past his lack of ideal height and judged him as a football player. Wagner didn't disappoint, showing the range and instincts to make plays all over the field. Wagner finished his rookie season with 140 tackles, 2 sacks, and 3 interceptions, and he only missed 8 tackles. It would be unrealistic to expect any huge improvement in his sophomore season, but it seems apparent the Seahawks have found themselves a quality middle linebacker. OLB KJ Wright is an excellent athlete with good size who has quietly developed into a very solid player. If Irvin takes to the position switch, the Seahawks could have an excellent trio of athletic linebackers. The Seahawks' linebacker depth is not great, so the team
would surely love to see Malcolm Smith prove he can handle some playing time while Irvin sits out the first four games.

Special Teams
K: Stephen Hauschka
P: Jon Ryan
KR: Will Blackmon, Jeremy Lane
PR: Golden Tate

Stephen Hauschka had a strong season for the Seahawks, but struggled to kick from distance (1-4 from 50+ yards), and got hurt in the playoffs. The team will have a hard time replacing the production of return specialist Leon Washington, who is now with the Patriots. Golden Tate is dangerous with the ball in his hands, and could end up being an excellent punt returner.

Schedule Analysis
Divisional Opponents: Arizona, San Francisco, St. Louis
Inter-Divisional Play: NFC South, AFC South
Uncommon Opponents: vs Minnesota, at New York Giants

The Seahawks have drawn an absolutely brutal schedule, with their only sure win probably being their week 3 home contest against the Jaguars. The season starts with a trip to Carolina against a Panther team very capable of making things interesting and potentially pulling the upset. The Seahawks are very strong at home, and will need to take care of business on their home turf because of their brutal home schedule. The Seahawks have not done well on the road and will have to visit the Texans, Colts, Falcons, and Giants. The Seahawks two games against the 49ers will be two of the most anticipated games in the NFL this year, and with the Cardinals and Rams expected to improve, every divisional game could be a dog-fight.