Veteran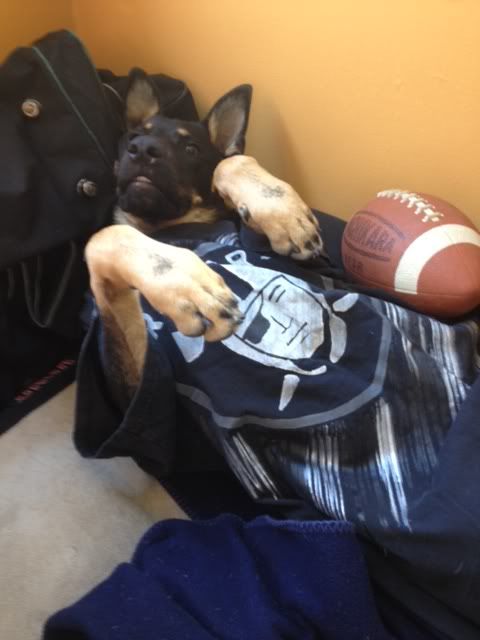 Join Date: Sep 2012
Posts: 716
Reputation: 469019
Vikings Season Preview
---
just lookin for feedback guys.not fully edited yet


The Vikings were the surprise team of the 2012 season, collecting wins against top teams like the 49ers, Packers, Texans, and Bears en route to their first playoff berth since Brett Favre was their quarterback. With Adrian Peterson coming off an ACL injury and the Packers, Lions and Bears all looking like contenders, the Vikings were expected to inhabit the cellar of the NFC North - but surprises like this are what makes the NFL so great. Peterson pulled off possibly the greatest comeback in the history of professional sports, recovering from a full ACL and MCL tear in just nine months. He started week one, scored two touchdowns, and got stronger every week for the rest of the season. Peterson finished the season eight yards shy of Eric Dickerson's single-season rushing record, and earned MVP honors for carrying the team on his back to the playoffs in one of the league's toughest divisions.
While I certainly wouldn't rule out another monster season from Peterson, the Vikings will need to show improvement and not rely so heavily on their star running back if they want to build on last year's success. QB Christian Ponder, entering his third season, needs to play with more confidence and make teams respect the passing game. The defense made great strides last year, but still needs to improve it's 24th ranked pass defense, a unit that opposing quarterbacks averaged a rating of 92.3 against. Head coach Leslie Frazier, a former defensive back, could be of some assistance in this department. His successful tutoring of the team's young defensive backs and his continued strong leadership should help the growth of this ascendant team.

Offense

Obviously Adrian Peterson is the engine that makes this offense go, but the emergence of the Vikings' offensive line was one of the great stories of last year. Left tackle Matt Kalil excelled in his rookie season, while RT Phil Loadholt and C John Sullivan emerged as two of the league's best at their respective positions. Guards Brandon Fusco and Charlie Johnson went through some struggles, but there is hope for improvement, as Johnson is still adjusting to his position change and Fusco is only entering his third season.

Overhauled Receiving Core
Rather than give a big extension to Percy Harvin, the Vikings opted to trade their oft-injured and malcontent playmaker to Seattle. With the money they would have spent on him, they lured Greg Jennings away from their division rivals. With the first round pick they got in exchange for him, they drafted Cordarrelle Patterson, who many experts had rated as the top receiver in the draft. Jennings gives the team the kind of pure receiver they haven't had since Cris Carter. His great route running, reliable hands, and veteran presence should do wonders for the passing game. Patterson still needs to polish his receiving skills, but has the kind of explosive playmaking skills that could fans forget about Harvin. Jerome Simpson will be looking to get his career back on track after a quiet first year in Minnesota, but will have to fight emerging young receiver Jairus Wright for playing time. It will be interesting to watch Joe Webb's transition from quarterback to wide receiver. It's hard to see him making a big impact any time soon, but with his size, athleticism and knowledge of the offense, he could develop into a nice weapon.

Notre Dame Tight End Tandem: Kyle Rudolph & John Carlson
The Vikings' two tight ends have quite a bit in common. Both were second round draft picks from Notre Dame, and are nearly identical in size, with Rudolph being slightly bigger at six foot six and 260 pounds. Carlson had a nice start to his career in Seattle, but has been quiet the last two years and now finds himself playing second fiddle to the younger Rudolph. Christian Ponder developed a nice chemistry with Rudolph last year, and clearly looks at him as a safety blanket and red-zone receiver, as evidenced by his nine touchdowns and 34 first-down receptions.

Making the Leap: QB Christian Ponder
While the Vikings don't need Ponder to lead this offense, they do need him to improve his play. After a strong start to the season, Ponder struggled and appeared to lose confidence down the stretch, making the offense extremely one-dimensional. Peterson proved that teams cannot shut him down just by stacking the box, but teams will continue to focus on stopping Peterson until Ponder forces them to respect the passing game. Entering his third season with an improved set of receiving options, Ponder could be primed for a breakout season. Ponder may never be a big star in this league, but he is an accurate passer with better-than-advertised athleticism and a nice feel for the game. If he can take command of the offense in his third season, the Vikings could become a nightmare matchup for opposing offenses.


Defense

The Viking defense made great strides in 2012, but still has a ways to go. To get there, seasoned veterans such as Jared Allen, Chad Greenway, Kevin Williams, and Brian Robison must lead the way. Allen already has 117 career sacks and 4 all-pro nods to his credit, but appears to have plenty left in the tank, as evidenced by his 34 sacks in the past two seasons. Greenway has been a model of consistency since the day the Vikings drafted him - he has never missed a game and his career-low in tackles is 99. Over the past three seasons, Greenway has racked up nearly 450 tackles and is now the centerpiece of this young defense. Ultimately, the fate of this defense will depend on the progression of their young talent.

Rising Stars: FS Harrison Smith and DE Everson Griffen
A first-round pick out of Notre Dame last year, Smith didn't waste any time making his mark on the NFL stage. He became an instant starter and his impact on a much-maligned Viking secondary was undeniable. By the end of the year, he had racked up 104 tackles, intercepted 3 passes, scored 2 touchdowns, and established himself as one of the game's bright young stars. Smith not only displayed great range and instincts in coverage, but brought a physical brand of play to the secondary.The Vikings are in the process of rebuilding their secondary, and Harrison Smith gives them a great player to built around.
Griffen didn't have quite as smooth a transition to the NFL as Smith, sliding to the 4th round in the draft and riding the bench for his first two seasons. Since his days at USC, Griffen was known to have the talent to be a star in the NFL, but it didn't come together on the field until last year. In a situational role, he was able to sack the quarterback eight times, record 23 hurries, and return an interception for a touchdown. Look for Griffen to continue to grow in his fourth season, and carve out a larger role for himself.

Pass-Rushing Rotation
As evidenced by the New York Giants' two recent Super Bowl runs, a strong rotation of pass-rushers can make an otherwise mediocre defense great. That's what the Vikings will be looking for from their defensive line, a deep group with a lot of upside. While Allen will take the majority of snaps on the left side, Griffen is expected to platoon with Brian Robison on the right side. Last year, that trio accounted for 28 sacks, a number they could realistically improve upon. For the past decade, the Vikings have relied on DT Kevin Williams to bring pressure from the inside, but he is clearly starting to slow down. Enter rookie DT Sharrif Floyd, who could end up being one of the draft's biggest steals. He is not expected to start this year, because he doesn't have the right skill set for the nose tackle position occupied by Letroy Guion, but he will platoon with Kevin Williams in the under tackle role. This will not only allow the Vikings' to ease their immensely talented rookie into the rotation, but cut down on Kevin Williams' snap count. Overall, the Vikings boast one of the league's deepest and most talented defensive lines, and they have players whose skill sets complement each other quite well. This will give the coaching staff great flexibility in putting together situational packages, and should allow for everyone on the line to stay fresh throughout the season.

Man in the Middle: MLB Erin Henderson
Henderson brought some strong play last year as an outside linebacker, but finds himself in a new role this year. His older brother, EJ, was an excellent middle linebacker for the Vikings that made a courageous return from a gruesome leg injury before deciding to hang it up, and the team will now try their luck with the younger Henderson at the position. Erin has not had an easy road to the NFL, going undrafted despite his immense talent, and struggling to find a position after getting picked up by the Vikings. After finally proving his worth by racking up over 150 tackles in limited playing time over the past two seasons, the Vikings are giving him a more prominent role. Henderson will play a big role, and will also be counted on to bring the physicality and attitude that the team has been missing from the MLB position since his older brother retired. Veteran addition Desmond Bishop has experience playing inside, but the team has him battling another veteran, Marvin Mitchell, for the starting weakside linebacker job.


Young Secondary
Harrison Smith looks like a future star, but the jury is still out on the rest of this inexperienced secondary. Rookie Xavier Rhodes, a first-round pick, will be fighting with Josh Robinson (2nd year), Chris Cook (4th year), Jacob Lacey (5th year), and AJ Jefferson (4th year) for playing time at cornerback. Of the group, Lacey is the only player with more than one year of starting experience, making the position the team's biggest wild card. Jamarca Sanford seems to have the upper hand on Mistral Raymond for the starting strong safety job, but he is another player with a lot to prove. The strength of this defense is clearly the front seven, but they will need some players to step up in the secondary if they are to improve their pass defense.

Special Teams

K: Blair Walsh
P: Jeff Locke
RS: Cordarrelle Patterson

Blair Walsh deserves some attention for the season he had last year. The rookie went 10 for 10 from 50 yards and beyond, including 55 and 56 yarders. Overall, he made 35 of 38 kicks, and didn't miss a kick at home. The team is very excited to see what Patterson can do in the return game. The rookie has blazing speed and has shown the ability to shake and break would-be tacklers.

Schedule Analysis

Playing in one of the league's toughest divisions, the Vikings will have to be at their best in divisional play if they want to make the playoffs again. The team struggled has some challenging road contests in Seattle, Baltimore, Dallas, New York and Cincinnati, which could make it hard for them to improve on last year's 3-5 road record. This means the Vikings will have to take advantage of reasonably favorable home schedule and play strong at the Metrodome, where they went 7-1 last year.